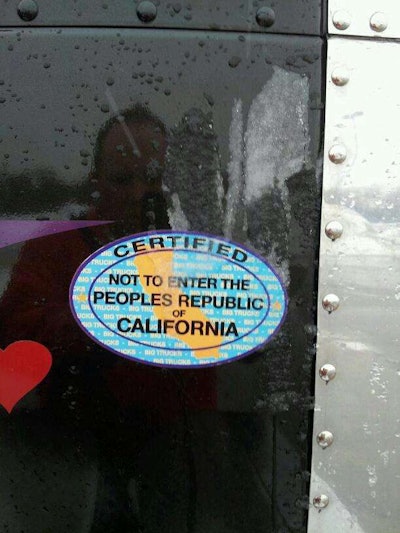 Though details were sparse, American Trucking Associations' head Chris Spear this week said ATA plans to organize a group of owner-operators aimed at "representing independent truckers before key decision makers."
Dubbed the Independent Contractor Ambassadors Program, the group sounds similar to that of ATA's existing America's Road Team Captains, which is a group of company drivers from ATA fleets that interact with the media, schools, government and others as ATA's driver representation. Presumably, this group would be derived from owner-ops leased to member companies.
Spear, in an address to ATA members at the associations' Management Conference and Exhibition on Monday, hinted that more details would follow about the new group.
Though it sounds on its surface like an attempt to broadly advocate for the industry's independent owner-operators (a departure for ATA, who represents primarily the interests of the country's largest fleets), the context of Spear's announcement provides a hint at ATA's intentions for the Ambassadors. Spear brought up the idea in the context of an issue that has burgeoned for larger fleets in recent years, particularly those who contract with owner-operators, especially on the West Coast and in the Northeast: Conflicts between state laws and federal laws governing trucking.
The two chief underlying issues of such federal-state conflicts are (1) driver classification (whether a driver is an independent contractor or an employee driver) and (2) state wage and hour laws that require paid breaks, at present isolated to California.
Though ATA's independents group could be limited in the scope of its advocacy efforts, both issues could become pressing for owner-operators. Recent driver-classification actions in California and New Jersey could hamper the use of owner-operators in those states.
While there are legitimate claims of companies "misclassifying" drivers as contractors instead of employees (which allows companies to skip out on certain wage laws and owed benefits), the rulings increasingly encroach upon the legitimate owner-operator setup.
Spear called state-level efforts to classify more drivers as employees "a concerted erosion of the traditional independent contractor model."
He's not the only one. Western States Trucking Associations' Joe Rajkovacz, the group's director of legislative and regulatory affairs, said a recent ruling by the California Supreme Court could "eliminate the use" of owner-operators within the state, even-single truck independent carriers, he said.
Likewise, while there's divergence of opinion over whether California laws requiring that carriers provide drivers with scheduled meal breaks and regular paid rest breaks ought to apply to interstate truckers, ATA has argued the rules hurt carriers, including very small carriers that have only a handful of trucks and employ only a few drivers — carriers whose broader concerns often resemble those of independent owner-operators more than they do those of larger fleets.
What shape ATA's program ultimately will take is unknown. But its development, at least, is surrounded by issues on which fleets and independent truckers might need to cooperate to stave off consequences that negatively impact both.