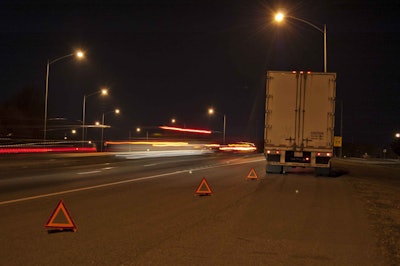 Year 2018 was shaping up to be the best on record for a Midwest-based lease operator who shall here be known as DeWayne Van Zandt. Van Zandt asked that his real name, and the name of the carrier through which he lease-purchased the truck, be withheld. He had just paid off his 2015 Pete. By all appearances, there seemed to be plenty of truck left after his note had been retired. "My average take-home, up until August, had been $3,800," he says. "If I spent two or three days at the house I was still looking at $800 to $1,000. Sometimes, if a load fell weird, you could take home over five grand."
One Sunday, though, while making that hard northbound pull up the Virgin River Gorge on Interstate 15, Van Zandt saw smoke coming from beneath his truck. "The fuel pump had disintegrated," he says. "It eventually took out the turbo, crank, bearings and tranny. Nothing was salvageable at all."
After two and a half days in a St. George, Utah, motel and the inevitable back-and-forth between Van Zandt, dealer and dispatch, there was nothing left to do but sign a promissory note with the company he was leased to that he would pay them back for anything he couldn't cover, and order a new motor and tranny.
"Cummins knew they had a problem with that series ISX," he says. In fact, his and about half a million other motors had been part of a mass recall by the engine manufacturer. "Still, I figured my part would be three or four grand."
With his odometer at 501,000, the motor and transmission were still under an extended warranty he had purchased to the tune of $3,100. To his surprise, though, the total bill would come to $79,850 some nine weeks later — the labor of which, comprising $20,000, Van Zandt had to cover himself. "I didn't know I'd be on the hook for the labor. At first they only wanted to pay 10 percent of the entire bill. After four weeks of my carrier fighting with them, they finally agreed to pick up the parts."
The nine weeks of back-and-forth, rental cars and lodging had dwindled DeWayne's maintenence fund. He had taken to renting a second truck from his carrier to try to keep some revenue coming in. He was now on the hook for what became his weekly repair payment for his downed truck back in Utah, as well as paying rent on a second unit. After all fixed costs, "I was $2,800 [a week] in the hole before turning the first mile."
His savings now gone, there was nothing left but his $200 weekly advance to live on. "I sent $150 home to my wife," he says, "and I lived on $50. I can tell you what's in potted meat … or how bad ramen noodles can taste after six months. Thank God for a landlord that had a heart."
Then, shortly after finally getting his truck out of the shop, his troubles would prove to come in threes. A load of bottled water he was hauling had been rejected by a big-box retailer for "not being correctly wrapped." Bear in mind, it wasn't leaning. It just had not met the receiver's spec of a correctly wrapped load. He was then dispatched to a repack facility which charged him $985 to re-wrap the load.
When he returned to the receiver, he was told at the guard house his trailer was not properly sealed. After an extended discussion that involved Van Zandt pointing out it was unsealed because they had sent him away to get the load reworked, and a couple of calls back and forth to receiving, he was finally assigned a dock, only to be told this time his load had been wrapped too tightly, and was rejected on the grounds of potential damage to the product.
"It was a B.S. claim," he recalls.
As his carrier's cargo deductible was $15,000, Van Zandt wound up as the proud owner of a semi-load of bottled water to the tune of $7,800, plus the $985 rewrap job.
"That's when those hurricanes were going on," Van Zandt says. "I took the load back to the house and donated it to FEMA. The only thing I could really do was hope like hell someone who really needed it got it."
There was no repayment plan with the water claim. His carrier was simply zeroing out his checks, and applying every cent toward his bill. Van Zandt speculates they were getting all they could get, thinking he would bail. Now five months in arrears to his landlord, he had no choice but to truck on, facing the prospect of homelessness. "I gotta have a place to live. I gotta have a place for my wife to live," he says, knowing all the while that too many "people out here live in their trucks."
In the midst of this, Van Zandt, who six years ago was diagnosed with chronic leukemia, began to develop an upper respiratory infection. Deeply indebted to his carrier, he tried to work through his illness, but the infection would eventually develop into pneumonia, costing him a critical 10 days' downtime, all told.
Shortly after his release from the hospital, he bumped into an old friend. "Jesus Christ you've gotten gray" was all the friend could say.
DeWayne now seemed to have no way out. Friends suggested he consider finding a company position somewhere, but he had to ask them, "Who's gonna want a 50-year-old man with leukemia?"
When he made it back home for Christmas, he told his wife she probably wouldn't see him again until the rent was caught up. "If I bailed, I was still on the hook for the promissory note I signed. If I saw it through, I might at least have a truck I could sell for, maybe, $20,000."
Somehow, things slowly began to turn around. Van Zandt speculates, "When they seen I wasn't going to turn and run, they started to work with me. All I had left was my word."
DeWayne Van Zandt received his first full check in nearly six months in January of this year. On the day I wrote this — March 1, 2019 — he had just brought his rent current. His white blood cells are back down, and he's eating better again.
"There were days off I had on the road when I would simply buy as much booze as I could, for as cheaply as I could find it, and just check out. Now, I'm like … yeah, you don't want to keep doing that."
For the first time since August, he's scheduled for three days off at home. I asked whether his carrier treated him any differently after he weathered his financial storm.
"To them, I'm just an a** in the seat," he says.