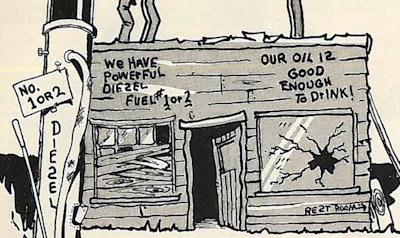 John Strong, who ended his long trucking career last year, brought up the old Mass 10 Truck Stop in a recent talk in which he recounted a sketch done of him by an Overdrive artist in 1976. You can hear Strong's comments on Mass 10 if you advance this recent Overdrive Radio podcast to 5:10.
Strong's mention of Mass 10 reminded me of the truck stop's place in Overdrive's archives, though recollections of the colorful Mass 10, widely known in its day as "The Dump," are plentiful in online forum threads spanning the last two decades. In the podcast, Strong recalls going on a trip with Overdrive founder Mike Parkhurst and some truckers to meet congressional leaders in Washington, D.C. Mass 10 owner Gene Murphy, an Overdrive advertiser and friend of Parkhurst's, also went.
Mass 10 was on U.S. 20 near Auburn, Mass., a town just south of Worcester, where I-90 meets I-290. The truck stop was known by many who ran in that region. The owner, who spun the derogatory nickname to his advantage, is remembered for his over-the-top generosity to truckers.
"The Mass 10 Truck Stop, owned and operated by Gene Murphy in the 1960s and '70s near Auburn, Mass., featured a lake bunkhouse eight miles away," wrote Overdrive Managing Editor Lucinda Coulter in 2010. "It slept 10 and had a telephone, kitchen, cabana and showers. Murphy provided drivers with transportation to and from the lake house, once his vacation home. The 'loudest noise in the pine-shaded grove is the television,' according to Overdrive's July 1965 story. Murphy lived at the truck stop and was 'available at any time to talk to truckers over a cup of coffee.' "
In another 2010 OverdriveOnline.com story written by Coulter, Russ MacNeil recalled, "In the '70s, there weren't many truck stops in New England." Mass 10 was for truckers "a safe haven where they could go and not be harassed by police about their trucking."
MacNeil was an amateur truck photographer whose work appeared in Overdrive. You can see his photos of classic trucks, most of them cabovers, shot in 1974 at Mass 10, in a gallery on Hank's Truck Pictures website.
Also posting on Hank's Truck Pictures, "Diesel Gypsy" recalled Mass 10 as "a small dirt parking lot with 2 disel pumps" and a shower in the garage. DG also offered more detail on Murphy's lake house:
"Mass had the blue law in effect and trucks would get nailed running on Sundays. If you got stuck in the area the best place to get tied up would be at Mass 10. Gene had a place on the lake, with boats, beer & bbq's. He would take the drivers in and give them free range of the place with beer, steaks, and boat use for free… He was even known to help a driver get bailed out of the jug for truck driving offence."
"Wbache" added to the thread: " I have to agree that Gene Murphy was an prince when it came to serving truckers with the limited facility that he had due to zoning laws and local opposition."
"It might have looked like a dump but has a nice drivers room and bunk room and was kept very clean," posted Glorywagon on Hank's Truck Forum, a site affiliated with Hank's Truck Pictures. "If you had truck problems or needed to get home for an emergency Gene was the man to bust his butt to help you. If you run out of fuel genes shop would bring you fuel at no charge. We need more Dumps like Mass 10."
Reader Roadranger, posting on the American Truck Historical Society website, recalled a friendly gesture of Murphy's: "Went inside the store one time in uniform freshly out of bootcamp at Parris Island looking to buy the latest Overdrive magazine. Gene spotted me in his infamous cameras waiting at the counter to pay for it, and called down on a speaker to the cashier to let me have it complimentary. Which I thanked him for."
The same ATHS thread includes discussion of Mass 10 mud flaps, sought by the poster, and the Mass 10 "bumper sticker that was around saying (where in the hell is Mass 10)."
Reader Chinatown, posting on thetruckersreport.com, suggested Mass 10 had other off-duty diversions besides Murphy's lake house. "At night van loads of women wearing negligee would be dropped off in the parking lot." In another post Chinatown wrote "they advertised that place on the 'all night trucker radio stations' and the radio hosts would chuckle because they knew what was going on there."
I made inquiries through a local American Truck Historical Society chapter, the Auburn Town Clerk's office and Ken Ethier, a board member of the Auburn Historical Society, but was unable to reach Murphy or determine if he's still alive. Please comment below if you have information on him.
Likewise, we'd love to hear anyone's memories of Mass 10, Murphy or his lake house.