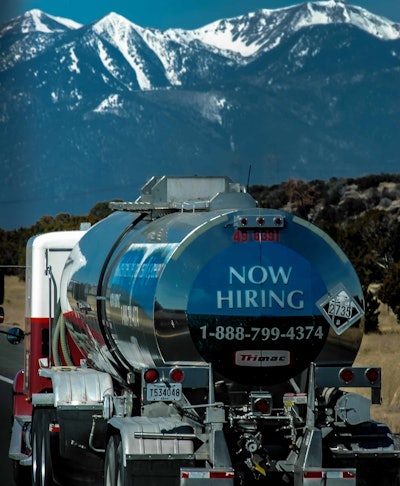 Backing her study released in March, Department of Labor economist Kristen Monaco on Wednesday continued to push back against the widespread notion that there's a persistent "driver shortage" in the trucking industry, despite having ruffled feathers over the issue earlier this year.
Though widely accepted — and promoted heavily by the American Trucking Associations and a few other trade groups — the "driver shortage" is more myth than reality, says Monaco, an associate commissioner of the DOL's Bureau of Labor Statistics. What's largely perceived as a labor shortage is in fact a retention issue, she says, with heavy recruiting efforts by fleets contributing to the persistently high turnover rates. She spoke Wednesday in a session at the 2019 FTR Transportation Conference, largely reiterating points she spelled out in a report published by the Bureau of Labor Statistics in March. (Read full coverage of the report at this link.)
"A combination of wage, hours and working conditions [describe] what's going on," she said.
Sound familiar? Overdrive readers have long argued that simple point — the real "shortage" is in pay, not in those willing to drive a truck. For instance, take Overdrive Senior Editor Todd Dills' blog from 2013, "An economist and a recruiter 'round the bar," in which longtime owner-operator Jeff Clark penned a humorous hypothetical conversation between an economist and a driver talking basic supply and demand, driver pay and fleets' per-mile pay practices.
Likewise, Overdrive reporting in recent years has largely pushed back against the idea there's a labor shortage in trucking.
And Monaco says her research into the topic yields the same conclusion. The market operates as expected, not as a "broken market," she said. When income potential and pay go up, more drivers enter the market, she said. "Which is exactly what we would expect to see if the market is working the way it should."
Though higher pay could help alleviate the issue, fleets often find it easier and cheaper to simply continue the churn cycle and hire new drivers instead of raising wages, Monaco said, which, "with the sheer number of carriers who are doing it, accelerates the churn."
ATA aggressively refuted Monaco's points in March. ATA Chief Economist Bob Costello said then that Monaco and her co-author Stephen Burks "demonstrate some basic misunderstandings about the trucking industry." In July, Costello issued a report arguing that the driver shortage is growing worse.
Monaco says she and Costello simply disagree over the interpretation of the data available, and, in response to a question specifically about ATA's push in promoting the idea there's a driver shortage: "People have different objectives and marching orders."