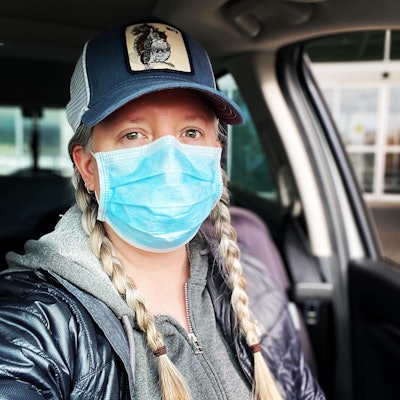 The coronavirus pandemic has breathed new life into a commonplace trucking term: long-hauler. It's now used to describe COVID-19 survivors who continue to suffer various symptoms, sometimes debilitating, long after their original infection has passed.
Not only was the time aspect of long haul a big part of this verbal morphing, but a trucker cap played a role. That's where Amy Watson comes in.
The Portland, Oregon, preschool teacher got sick March 15, as the virus was spreading rapidly and lockdowns were beginning. She had flu-like symptoms and a dry, unproductive cough, typical of COVID.
"After laying at home a couple of weeks, I threw on my favorite squirrel trucker cap and drove to get tested," Watson said. She took a selfie with the cap and posted it on her Facebook page April 11. "A couple of days later I learned I had COVID." Her condition never required hospitalization, so she assumed she'd make a full recovery.
A month after getting sick, that wasn't happening, so she began searching online for support groups. The ones she found weren't limited to COVID survivors and their families. Also, "folks on there weren't very nice or supportive," she recalled, so she decided to launch her own Facebook page.
"Looking around, I saw my hat on the coffee table," she said. Watson realized the "long haul" concept – common to trucking and the unpredictably long journey of suffering that many COVID survivors were beginning to report – would be a perfect name for the Facebook support group. She named it Long Haul Covid Fighters, limiting it to COVID survivors who first experienced COVID prior to April 1.
Watson later launched another private Facebook group for those whose illness began on or after April 1. She plans to open a third, for researchers and the general public.
Long-haulers' symptoms vary widely. They can include fever, loss of smell and taste, coughing, joint and body aches, shortness of breath, headaches, fever, and difficulty concentrating or sleeping. Studies estimate about 10% of COVID patients become long-haulers, reports UC Davis Health, part of the University of California.
"This condition can affect anyone – old and young, otherwise healthy people and those battling other conditions," said UC Davis. "It has been seen in those who were hospitalized with COVID-19 and patients with very mild symptoms."
What the school calls long-haulers' "brain fog" poses one of the biggest concerns for truckers, given the need to focus for extended periods on schedules, continually changing traffic situations and much more. "Patients report being unusually forgetful, confused or unable to concentrate even enough to watch TV," said UC Davis.
After Watson's creation of the initial Facebook page, long-hauler usage spread. One day she heard Dr. Anthony Fauci, the nation's lead medical adviser on the disease, use it publicly. "I hadn't grasped the term being used outside the community of those of us still being sick," she said. "It was pretty exciting that somebody was acknowledging us, especially someone like Dr. Fauci."
The term was getting media coverage at least as far back as June, when The Atlantic used it in a detailed article on the topic by Ed Yong. Writing again for The Atlantic in August, he dispelled the "caricature" of COVID: "that it kills a few and is 'mild' for the rest." Instead, he wrote, it has afflicted tens of thousands with lingering symptoms that can make everyday life challenging, if not horrible. Victims' average age is 44, and most did not have serious pre-existing conditions – again, unlike the stereotype of most victims being elderly and in poor health.
The medical community is still struggling to fully understand the relatively new condition. One theory "is that the virus possibly remains in their bodies in some small form," said UC Davis. "Another theory is their immune systems continue to overreact even though the infection has passed."
Watson, who is 47, would like to get back to teaching, though it doesn't seem likely in the foreseeable future. Not only are Portland teachers furloughed for now – and pre-schoolers are hardly ideal candidates for online teaching – but her condition limits her basic functioning.
She's had a fever for more than 300 days. Like many other long-haulers, Watson's had damage to her autonomic system, a part of the nervous system that controls the muscles of organs such as the heart and lungs. It can interfere with simple functions such as breathing and swallowing. "My stomach doesn't kick into gear when food arrives," she said.
She can be doing simple household tasks, such as unloading the dishwasher, and her heart rate has "crazy leaps," she said. "It will jump from a normal 88 to 132, then drop dramatically to 34, for no reason."
With her basic systems behaving so erratically, "I've learned to move slowly." For example, upon waking she'll sit up in bed a while before getting up.
Her support group work has put her in touch with medical researchers. "Most of the studies in progress now just identify what's happened, but they're not focused on treatment," Watson said, though she's working with one doctor who is trying to find effective treatments, including medication now used for HIV patients.
With the exception of some truckers in her support groups, Watson has no direct ties to those who work in trucking. But living through the pandemic has increased her appreciation for truckers and farmers. "Every time I buy groceries, or have something delivered to my house, I'm so grateful that the trucking community is still out there, doing what they've been doing all along."
---
Have you survived COVID-19 but continued to suffer from its symptoms or other, new symptoms? Comment below or write mheine@randallreilly.com. Next week we'll feature accounts of drivers and their families dealing with long-hauler symptoms.