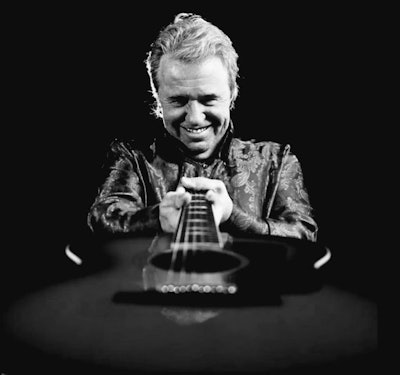 Mike Murchison
Age: 60
'I guess you'd call it Americana'
"I was born in Sydney, on Cape Breton Island in Nova Scotia. It's a beautiful place, but it's cold as hell. I hope to retire there one day.
"There was always music being played there, lots of little clubs. Someone would have an accordion. Someone would have a fiddle. They would sing about fishing, logging, drinking. There were gospel songs. That's where I got a lot of it from.
"But Ian Tyson's stuff is what I fell in love with. Tyson is a true dyed-in-the-wool cowboy. Four strong winds. Last I heard, he was still in Longview raising cattle and cutting horses.
"When I was eleven years old I split my head wide open running to school. Shortly after that, I came down with epilepsy. We moved to Alberta when I was 17. That's when I began to play guitar. I've got a Fender FJ 70, a mandolin, a dobro, a twelve string, all self-taught. I guess you'd call it Americana. The only two things I know are trucking and music."
... hauling swingin' meat. No logbook.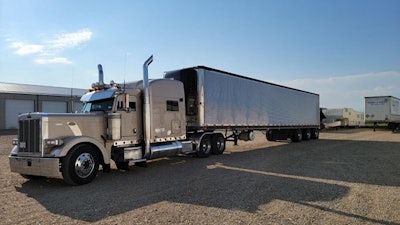 It wasn't until the advent of new medication that Murchison would be seizure-free for one year and eligible to haul.
"I never got my driver's license until I was 25. That was a drag. You couldn't get a date. Two weeks after that, I went out and got my CDL."
Not long after that, Murchison would be living the dream of mobility that had been denied him for nearly a decade.
"I was hauling swingin' meat. No logbook." (Canadian drivers were not required to carry log books until the late 1980s.) "I wore my jeans a little tighter then. You could go down the road when you wanted to go. Stop when you wanted to stop. I'd shut up and listen to the old guys, though. A lot of guys I knew were very supportive. Things like 'don't haul cheap freight.'
"'Watch fuel prices' and 'check your broker's credit rating.' I had a few guys tell me that I was crazy to do it. But nothing ventured nothing gained.
"I was also told [to] give up my life 365 days a year. That was the most accurate truth I received. Tough row to hoe. But what doesn't kill you makes you stronger.
"I'm in Montana, heading back to Alberta. I take ag down, fertilizer. I've got fertilizer heading back. I've got a combination [doubles], between these two trailers I've got 63,000-lb. payload in here. That's the thing. When you've got a truck that can do the job, you know that doesn't mean you have to run it into the ground, right? I mean, with this kind of weight, you're torquing the tires out. Those cheap Chinese tires don't cut it when you're hauling this kind of weight.
"You gotta go easy on the hills. Shut your A/C off when you're going up the hills. Mine's got 600 horsepower. You gotta watch the turbo. You gotta watch the manifold, make sure she don't heat up too much. That's the biggest thing with turbos, and I'm sure you probably know yourself, like, when you're pulling a load, or you're pulling a hill or when you're pulling against the wind, a lot of guys have a tendency to just drain that pedal to the floor to get to the posted speed limit. At some point if you continue to do that something is going to fly apart."
For Murchison, trucking from Canada into the U.S. represented a whole new level of freedom. Hearing radio programming for the first time that many of us take for granted remains, for the earnest Albertan, unforgettable.
"The first time I ever heard the Grand Ole Opry, Glenn Campbell was on that night. I was like 'God! I'm listening to the Grand Ole Opry out here in the middle of nowhere! [Laughs.] And I'm in a truck!'"
A long and successful career as an independent with his own authority would follow. When the first wave of the pandemic struck, Murchison had to roll with the punches.
"I got hit hard with this COVID fiasco. We were hauling into Sysco. I watched my revenue plummet. I couldn't see running on my own authority anymore. My insurance went up 38%. They'd done that across the board. We had a clean carrier profile. You get to a point where you ask, 'Do I want to be independent anymore?'"
Murchison wound up leasing on to an agricultural commodities carrier, hauling products like dried distillers' grain and granulated fertilizer. At some point in this transition he began afresh as a recording artist.
'The thought of the scars of Jesus Christ came into my head.'
In Kelowna, British Columbia, just blocks away from where Western Star trucks were once made by hand, sits PureSound Recording. Many of Murchison's struggles had distilled into an anthem. "The thought of the scars of Jesus came into my head, and the song just wrote itself."
What followed was a recording that evokes as much of Johnny Cash as Ian Tyson, replete with trumpets. That's right, dear reader, trumpets. And to my ear, this trucking troubadour can go toe to toe with anyone out there today.
Enjoy.
To follow Mike Murchison, check out his Facebook page.
Read all the entries in Long Haul Paul Marhoefer's Faces of the Road series via this link.