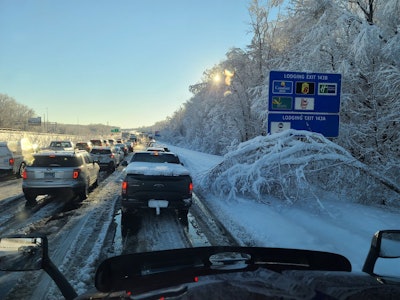 The fallout from the 27-hour snow-in on Virgina's I-95, which trapped hundreds of drivers and made national headlines, has not been kind to outgoing governor Ralph Northam, who at times has blamed drivers for the mess, apologized, and expressed frustration.
But drivers, politicians, and social media users alike continue to criticize Northam's response to the crisis.
The Virginia Department of Transportation began warning drivers online about the state's first winter storm as early as Jan. 2, this past Sunday: "If you need to travel tonight, remember to check road & weather conditions BEFORE you leave the house," one such warning read, as reported at Overdrive sister publication CCJ.
By Monday Morning, cars and trucks had already begun to get stuck.
Then on Tuesday: "We know many travelers have been stuck on Interstate 95 in our region for extraordinary periods of time over the past 24 hours, in some cases since Monday morning," said Marcie Parker, Virginia Department of Transportation Fredericksburg District Engineer. "This is unprecedented, and we continue to steadily move stopped trucks to make progress toward restoring lanes. In addition to clearing the trucks, we are treating for snow and several inches of ice that has accumulated around them to ensure that when the lanes reopen, motorists can safely proceed to their destination."
"We gave warnings, and people need to pay attention to these warnings, and the less people that are on the highways when these storms hit, the better," Northam told the Washington Post on Tuesday, as plows and tow trucks were still clearing the roads.
But Northam's response fell flat as social media, and major media headlines flooded with stories of everyone from Senator Tim Kaine (D-Va.) to motorists stuck in frigid cars with little food and nothing to do but wait.
Professional truck drivers made headlines during that time for their generosity and preparedness on the road, serving up hot meals and sharing food, sometimes from the shipments they carried in the trailer.
One such operator, Esther Strong of Ken Strong Hauling in New York, described a 21-hour ordeal involving semi truck tires freezing to the ground and helpless families waiting in passenger cars.
"We were able to help out a family in front of us who had two small children that hadn't eaten since breakfast. It was now 4:30 in afternoon. We were able to give the whole family sandwiches, bottles of water and cracker packets. Next morning at day light we offered all cars to the right of us coffee and water," Strong said.
Stories like these drew repeated questions for Northam, who eventually snapped.
"I am getting sick and tired of people talking about what went wrong. I think we ought to be very thankful that nobody got hurt, nobody lost their lives, Interstate-95 is up and running, and people are back at home and back at work," Northam said to a reporter from local news outlet WRVA. Northam empathized with drivers who got stuck and applauded the relief efforts, but may have ended up pouring fuel on the fire.
In his frustration, Northam lashed out at drivers and demanded the media question drivers about why they were out in bad weather.
Matthew Marchand, a Canadian company driver, wound up making headlines for his assistance to the driver of a Tesla looking for a charge while stuck on I-95. Marchand said he knew weather was coming, but that it's part of the work.
"I knew there was a storm in the area, but I'm a Canadian driver," Marchand said. "I didn't think anything of it because, OK, what's the big deal? It might delay me by an hour or two, but my point is that Maryland got the same basic snow in the area of the state, yet the roads were in so much better shape."
"The idea," Marchand said in response to Northam questioning drivers' purpose, "is I had a load of product going to Auburndale, Florida, and as far as I'm concerned the state has a legal responsibility to do their job in a timely fashion and to a specific standard."
Marchand admitted to some unfamiliarity with the U.S. system of interstate highways being maintained by the states, but expressed surprise at Virginia's lack of preparedness.
"I kinda think of Virginia as a winter state," he said. "Maybe they don't get as much snow as other states, but it's not Georgia or Texas. There's no reason they should be ill-prepared."
Other Virginia haulers I spoke to said that even on a sunny day, they do their best to avoid that stretch of I-95.
"I used to go up and down 95 a lot, but I do whatever I can to avoid it," said owner-operator Debbie Desiderato, based in the Western part of the state today. "I can't stand that road. Used to run snow birds down to Florida in that section of Virginia north of Richmond, between Richmond and Baltimore, and I couldn't think of a worse road. I'd rather sit on the cross-Bronx in New York. It's just the traffic, it's high speed, and dangerous."
Desiderato said that she always checks the weather and makes sure to avoid storms if she can.
John Olah, another Virginia-based owner-operator, actually sided with Northam, saying it's the "driver's responsibility" to stay out of bad weather conditions.
Senator Mark Warner of Virginia told the Washington Post that Northam's reaction just wasn't good enough, urging better communication with the public. As noted, Virginia's other Senator, Tim Kaine, was among drivers stuck on I-95 for hours, with but an orange to eat. After finally making it back home, he described his condition as "frustrated but OK."
As for the professionals, the owner-operators I spoke to mostly underscored the point that drivers of all types need to prepare for bad situations. "One never knows the weather, always be prepared," said Esther Strong, advising motorists to "keep a blanket, water, etc. in your trunk for emergencies." And, she added, let it be a "lesson learned."
[Related: Winter trucking tips that could actually save a life]