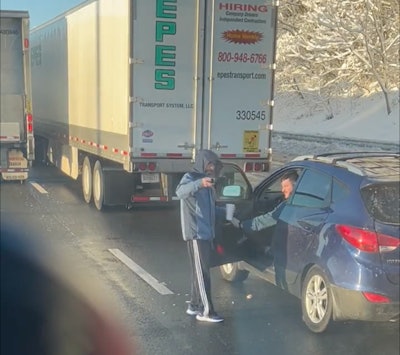 Interstate 95 northbound and southbound between exit 152 (Dumfries Road) and exit 104 (Carmel Church) in Virginia completely shut down after a snow storm rendered the roads impassible, and now the scene has become a nightmare for truckers and drivers as the standstill passes the 24-hour mark.
"We know many travelers have been stuck on Interstate 95 in our region for extraordinary periods of time over the past 24 hours, in some cases since Monday morning," said Marcie Parker, Virginia Department of Transportation Fredericksburg District Engineer in a statement. "This is unprecedented, and we continue to steadily move stopped trucks to make progress toward restoring lanes. In addition to clearing the trucks, we are treating for snow and several inches of ice that has accumulated around them to ensure that when the lanes reopen, motorists can safely proceed to their destination."
VDOT has tow trucks and snow plows out to ease up the situation, but many have already endured a frigid night on the road without food. Truck drivers on social media have made headlines by handing out microwaved meals, and Virginia Senator Tim Kaine got stuck in his car for 27 hours and had to run his heat intermittently to keep from freezing.
A blizzard brought down more than 12 inches of snow to the Fredericksburg region on Monday morning, according to VDOT. Many primary and high-volume secondary roads remain snow-covered and blocked by downed trees, but VDOT said it will work to improve the conditions around the clock.
Several D.C.-area organizations have attempted to reach people stranded on the highway with food and aide.
As of Tuesday afternoon, the roads look to be clearing, but keep an eye out for VDOT updates via official channels. For highway updates from around the country, check Overdrive's curated Roads 511 list.
If you're stuck on I-95 or have a story about the shut down, please contact me at alexlockie@randallreilly.com.