I don't know about you, but over the past months I've acquired a newfound obsession with our once-quiet neighbors to the north. I've wasted countless hours watching YouTube videos of MP (Member of Parliament) Candice Bergen excoriating PM (Prime Minister) Justin Trudeau in the House of Commons. (Never really knew what all these letters stood for until things got interesting up there.) Literal days' worth, too, consuming all things Jordan Peterson, including his erudite commentary on the Canadian convoy.
[Related: On the 'Freedom Convoy' protests, with Canadian cross-border owner-operator Mike Murchison]
But among the most interesting voices on it all emerged within the trucking community itself to help me gain some perspective -- that of Gord Magill. A few weeks ago, readers who watch Fox News may have chanced upon Laura Ingraham's interview with the third-generation Canadian trucker and ice road veteran. In recent weeks, three of Magill's essays on the "Freedom Convoy" to our north were published in Newsweek, which landed him invitations to be a commentator on multiple platforms.
I wanted to know who he was as a trucker, long before his newly-minted micro-celebrity status was conferred. During one of our pre-interview conversations, I told him it seemed to me he had become the de facto spokesman for the Canadian convoy protests. Magill, the father of two daughters who now resides in Upstate New York with his American wife, Jenna, guffawed.
"That's a distinction I would run from with my hair on fire!" he said. "Let's just say I'm one of their biggest cheerleaders."
I caught up by phone with him a few days after he got back from Ottawa. For someone who has been jamming gears since high school, this cat is no average truck driver.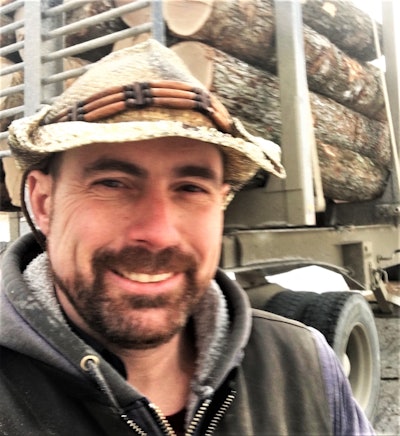 Gord Magill
Occupation: Log hauler
Age: 43
CB handle: Gordo
Past Jobs: Ice road trucker, Yellowknife, Northwest Territories; Road train driver, Australia; Log hauler, New Zealand; Ice delivery man, Burning Man
"My grandfather was a tank driver in the second World War. [When] he got out, he was a mechanic and worked for a trucking company in Hamilton [Ontario]. Hamilton is like the Pittsburgh of Canada. My uncles and my dad all got into the trucking business as well. While I was in high school, I went to work for a company on the east side of Hamilton. We hauled steel coils, heavy equipment, all kinds of stuff. I helped the mechanics, and I helped the local guys chain and tarp loads.... I was driving around Hamilton when I was in the 11th grade without a license. As soon as I turned 18, I got my Ontario Class AZ ... worked around Hamilton, Toronto and Southern Ontario for a couple years. They'd run me the odd load to Montreal. Then I ran Detroit for a while. A quasi-apprenticeship program, so to speak. ... I've always had itchy feet, and wanted to travel. I applied for a working holiday visa to go to Australia and they gave me one.
"When I was 20, I hitchhiked to Vancouver and flew to Sydney, thinking I was going to Australia to drive road trains. I was thoroughly disabused of that notion not long after arriving, due to my tender age, lack of experience driving on the other side of the road, and not knowing how to get my license transferred. I ended up working for this tour company for a few months instead, and then I came home.
"My uncle hooked me up with a rock and roll tour pulling a step-deck van for the band Kiss in the year 2000 on what they called their 'Farewell Tour,' which, if you understand what Kiss is all about, was a joke. After that, I went back to work for the Paddocks [Earl Paddock Transportation] and hauled steel again, and various other things.
"Couple years later in 2002 I got another work visa, for New Zealand this time, 'cause I'd done some homework on New Zealand and discovered they had some pretty crazy logging trucks working in a place called the Kaingaroa Forest, which has it's own private off-highway system. They pull two 45-foot trailers, some with 10-foot-wide bolsters, just incredible amounts of weight, like 120,000 to 150,000 kilograms. ... I thought to myself, 'If I can get in there, that can be my practice, then I can go back to Australia and maybe they'll hire me this time'..."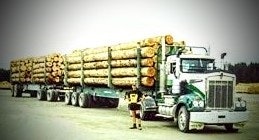 "I found this gentleman on the internet, Errol Parkinson was his name, a headhunter. He would bring Kiwi truckers to Australia. He helped me get my road-train license and my hazardous material ticket, forklift license. Unfortunately he couldn't get me a job because I didn't have a work visa. I wound up hanging around Oz for a couple months. … [Then] I came home with my tail between my legs back to Canada.
"My friend Nigel, from New Zealand, joined me later back home. He had acquired one of those same working holiday visas. While he was here, we signed up to go run the ice, and were hired by this company RTL, out of Edmonton and Yellowknife, so we both went up to Yellowknife and we ran the 'Winter Road.' We did that for a season, and Nigel went back home to New Zealand. I thoroughly enjoyed my time up north, and went back for three more winters. That's what began my, sort of, seasonal career in trucking.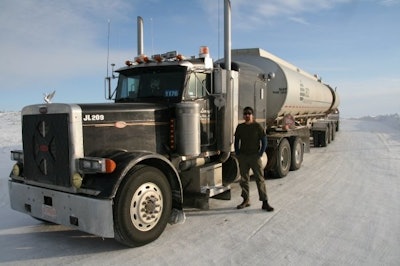 "In 2014 I went back to Australia. Finally, I got my hands on a work visa this time, and got to fulfill that old dream of driving road trains.... I might have stuck around longer but the company I worked for was bought out, and the Australian nanny state had ruined the fun. Now that I'm in America and have two young children, it seems unlikely that I'll be going back any time soon.

"I've done a number of very interesting things, and I've had the privilege to work with some incredible people. Many of the guys I met on the ice, real pros like Gavin Smith or Jim Lengyel, were some of the finest I'd ever met, and they're friends to this day."
Find one of Gordo's essays on the situation in Ottawa after the Canadian cross-country convoy last month, as published in Newsweek, via this link.