Winter, 1988, somewhere east of Beaverdam, Ohio, when US 30 was still just a two-lane, you'd rumble through the frozen fields of the Great Midwest in your International Transtar with its screaming 318, trying to make Cuyahoga Heights by six. Two in the morning, then, and you were barely holding on by Coca Cola, coffee and Lucky Strikes, just hoping to catch your second wind by Upper Sandusky.
On those sleep deprived nights, you'd work the AM dial in a manic state, looking for some show that could pick you up. In that part of the country, your options for trucking radio were 700 WLW Cincinnati and the Truckin' Bozo Show and 1140 WRVA in Richmond, Virginia, with Big John Trimble.
Some nights, though, if it was down in the teens and the sky was clear, the ionosphere would smile down on you. You could pick up Dave Nemo's Road Gang on 870 WWL, "deep down in New Orleans!", just like you were on the banks of the ol' Pontchartrain.
"Muleskinner called in from Nacogdoches, and he wants to hear a train song!" Nemo would announce, and then a song you'd never heard before would scream through the night, bearing you to your second wind. It was pure Americana, and it was all there for you and others of your trade.
As I've said before, it's difficult to overstate the outsize importance that the all-night trucking radio hosts held for the working driver in those days. Twenty-hour days were, at least for this gearjammer, not uncommon then. And the unique brand of entertainment that hosts like Nemo provided was pure cetane to the trucker burning the midnight oil. They were like high priests of an unseen subculture, curators of a certain aesthetic sensibility; but of all the practitioners of the genre, you'd be hard-pressed to find any who did it with the aplomb of Nemo himself.
[Related: An indelible portrait: Long Haul Paul's 'Long Haul of Fame' through trucking highs, lows]
Subtracting some initial years as he got his footing, 2022 marks the 50th year of Dave Nemo's uninterrupted career in radio. This is his story.
Dave Nemo
Age: 73
Occupation: Radio host, musician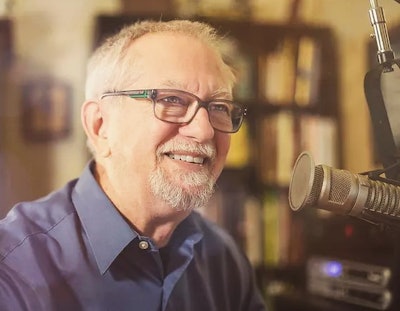 "My first job was as a grocery basket retriever. I've been a lifelong working musician beginning in high school.
"I was a fleet man with a barge company on the Mississippi River for 7 years through school. Thank goodness I worked at night, as my mom wouldn't let me in the house until I took off my clothes ... super dirty and greasy.
"I joined WWL Radio in December of 1969 as an on-air personality. Then, in 1971, I was on AFKN [Armed Forces Korea Network]. In 1972 I rejoined WWL and that's when I met Charlie Douglas."
Before he came the WWL the first time, "I was the program director of the campus radio station at Loyola University in New Orleans. I auditioned for a job at WWL ... and got it! I was the first part-time employee there and by far the youngest.
"Charlie Douglas was an all-night show host on a country music station in New Orleans but he commuted from Picayune, Mississippi. He realized there was a totally unserved audience of truckers out there in the dark. In 1971, while I was in the Army, he approached the ownership of WWL and convinced them to radically change their overnight programming to create what became, very quicky, a bona fide genre: Trucking Radio. His legacy continues today.
"WWL was granted 'clear channel' status in the 1930s. All the other stations across the country were required to sign off at local sunset, then sign back on at sunrise. That opened up the country for WWL to be able to reach not just the long-distance listener but the truck drivers constantly moving across the country."
[Related: Bluesman and former trucker Watermelon Slim fails better]
LHP: "I'm curious whether the Charlie Douglas epiphany was the big bang of the all night trucker radio format, or was it going on anywhere else at the time?"
Dave: "That may be a fair assessment in terms of focusing the program exclusively for the truck driver. Charlie would say that anyone can listen but the show is focused solely on truckers."
LHP: "Over the years, you had some iconic moments with in-studio guests. Do you have any recollections of those appearances, or any in-studio appearances that stand out?"
Dave: "I'll never forget Tammy Wynette. In my earliest days, she did a concert here in New Orleans and was a guest on the show. She was so gracious and kind."
LHP: "What about any interactions with the drivers that stand out? There seems to be a very real phenomenon in trucking radio where deep, years-long friendships are formed between the hosts and listeners, and regular callers also become friends with one another. I remember with some poignancy that in Dale Sommers' last days on this earth, much of his in-home care was provided by a listener. This, culturally, to me at least, really seems to be its own thing. I mean, do you realize in my early years of trucking, I spent more time with you than my wife?"
Dave: "And I spent more nights with you! Still to this day, a driver will tell me that his dad heard about his birth from me. Before cell phones and social media, we were the link to home. Our mandate was to keep drivers awake, alert, and alive. Today, the mandate is a little different in the morning hours. Now we do our best to keep drivers up to date on regulations, technology and the lifestyle issues of health and well being."
LHP: "That said, one night I finally got stopped long enough to call your show [from a payphone]. I was in Smyrna, Tennessee, and you were in your Nashville phase [with a different station]. That was such great radio! You were bringing in aspiring songwriters. The station told me you no longer did the show there. I think that must have been when you went to satellite. Just how grueling of a job was that all-night gig?"
Dave: "My working life was essentially always at night as a musician, on the riverfront, even in the Army [as a young man]. So I never really knew much of anything else. But when we moved from midnight to 6 a.m., it took me exactly one day to get used to working in the sunlight!"
LHP: "How hard was the transition to all talk?"
Dave: "We kinda eased into it gradually going from music and fun stuff to trucking issues. That transition started with the birth of the FMCSA [in the year 2000]. With that, we've had plenty to talk about."
Congratulations, Dave, on 50 years in radio! Thanks for all the miles you've made with us. Here's to many more to come.
Find all the installments in Long Haul Paul Marhoefer's "Faces of the Road" series of profiles/oral histories via this link.