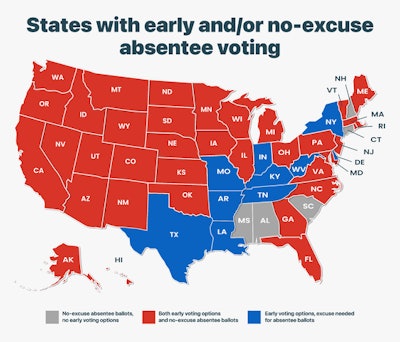 A few months ago, I got a letter in the mail from the Fulton County, Georgia, Board of Elections asking me if they could take me off the voter rolls ahead of the upcoming elections. Fulton County, where I grew up, has become one of the most fiercely contested districts in a newly minted "swing state," with Georgia going for President Joe Biden in 2020 and sending two Democratic Senators to Washington over the last two years.
Truth is, I haven't lived in Georgia since March of 2015, and I have since registered to vote in at least four other districts in two other states. With states more focused on their election rolls, it's never been more important to register to vote, make sure you're registered correctly in the right district, and to actually vote early, by mail, or in person. It's not an exaggeration to say that the fate of the country and your particular locale depend on it. For truck owner-operators crisscrossing the country week to week, that can all get pretty complicated.
With most mid-term elections slated for early November (Election Day is the 8th), and state absentee ballot application deadlines sometimes as far as 21 days out from the election, now is the time to make sure you're good to vote.
Overdrive complied the above graphic with a rundown of state voting rules, specifically which states allow voting early or voting via absentee ballot with or without an excuse.
In-person early-voting access has continued to expand, with 46 states and the District of Columbia offering it. Just four states (Alabama, Connecticut, Mississippi, and New Hampshire) do not, though they may offer pre-Election Day in-person voting options for eligible absentee voters.
Twenty-seven states and D.C. offer "no-excuse" absentee voting, which means if you ask for an absentee ballot and meet the registration requirements, you'll get one. Eight states conduct so-called "all mail" voting, where they'll automatically send you a ballot (California, Colorado, Hawaii, Nevada, Oregon, Utah, Vermont and Washington). All of them, though, still allow you to vote in person. California, Nevada and Vermont are all new to the procedure, with laws passed just this year.
When it comes to absentee voting, the remaining states do require an excuse for why you can't be present on Election Day.
Luckily, the excuse "I expect to be out of the county on Election Day" works fine in those cases.
For the 22% of Overdrive poll respondents planning to vote by mail, make sure to follow all instructions to the letter, to completely fill out the ballot, and to get it in the mail in time to arrive ahead of election day. Voting in person, even early, allows a voter to see their ballot checked by the machine. At that time, any errors detected on the ballot can be corrected in person, but absentee voters don't have such immediate luck.
Earlier this year, Texas initially rejected 18,742 mail-in votes after passing a new law requiring voters to verify their ballot using their ID. Don't be one of those cast-aide votes as jurisdictions continue to adapt to the realities of less in-person contact with increased scrutiny of mail-in ballots.
Additionally, have some patience. State laws differ on when mail-in/absentee votes can begin to be counted, so check this page for some idea of when the votes are added to the total on or after Election Day. Keep in mind, while candidates often give acceptance and concession speeches on the basis of unofficial results just hours after polls close, official election results can take weeks to arrive, and sometimes absentee ballots are the last ones counted.
To check if you're eligible for absentee ballots or early voting, visit the National Association of Secretaries of State's "Can I Vote?" page.
Some states allow early voting more than 40 days in advance of an election, so make a plan to vote and share that plan with members of your household.