Don Queeney
Age: 62
Occupation: Director of Transportation, Wreaths Across America
Past jobs: Commercial Fisherman, Household Mover, Founder of Hampton Roads Moving and Storage
Don Queeney isn't your typical trucker. Clean-cut and broad-shouldered, with a frame seared by decades of grueling physical labor, the former commercial fisherman and longtime household mover communicates with the soft-spoken eloquence of a corporate officer. This is, in fact, a role he has occupied throughout a long and successful career as the cofounder of Hampton Roads Moving and Storage.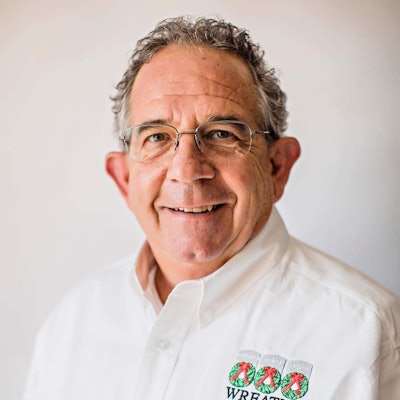 But there is something else that makes him stand out. Despite being in the business of trucking since the 1970s, he exudes mission. In his role as transportation director for Wreaths Across America, overseeing the shipment of more three million wreaths throughout the United States, Europe, and anywhere else in the world where an American soldier's remains are interred, that sense of mission has served him well. While many his age in this industry wind up jaded and bitter, Queeney stands out, for this gearjammer, as a source of personal inspiration.
I recently had the honor to sit down with the old bedbugger and talk about his "why." Here's what he had to say:
"My father was the kind of guy [who] would drive down the road on vacation, and if he saw a fellow on his front porch, he'd slow down, roll his window down and say, 'How you doing, old fella?', and just keep on going. [He] taught me how to give back."
In my last edition of the "Faces of the Road" series, I quoted Don Queeney speaking to his feeling that Wreaths Across America is more than just a big ceremonial project. "It's become a mindset," he said. "It's a way of thinking about things – honoring our veterans on as grassroots a level as possible, [and] engaging the American public to do so." …
He had well more to say on that score:
"I [just] met a fairly newly-minted Gold Star Mother. Her son was not buried in Arlington, but was buried in a location that participates in wreath-laying ceremonies. She had not heard of Wreaths Across America before. And when she went to her son's gravesite to visit him at Christmas ... there was a wreath on his headstone. And she said it just was extremely fulfilling, extremely reverent to think that a stranger had taken the time to get up in the morning, come there, on top of ... pulling fifteen dollars out of their pocket to sponsor that wreath, and more importantly, after she learned what we were all about, that they had spoke his name in remembrance.... You wanna know what drives me? It's those types of stories and knowing that somebody is getting healed in some small way by the outpouring of regular Americans just trying to make a difference."
After that first year Wreaths founder Morrill Worcester laid a surplus of wreaths at Arlington, also detailed in my prior story about Gold Star Mother Jill Williams, Worcester "called home that first year and said 'We are never not doing this again'," Queeney said.
So the one-time gesture became a tradition, and continued in Arlington for nearly fifteen years, with others joining in to help.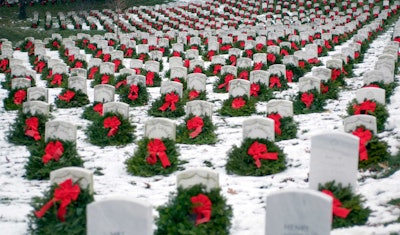 According to the Wreaths website, "Almost immediately, thousands of people wanted to know how to help...."
Wreaths Across America was then formed as an entity as a means of managing that outpouring.
With the advent of smartphone technology just months away, owner-operators and major fleets soon joined the chorus, and now, 16 years later, have come to comprise the backbone of what Radio Nemo's Jimmy Mac described as a "pop-up Fortune 500 company which functions three months a year."
In 2008, Congress unanimously voted to establish the third Saturday of December as National Wreaths Across America Day. The day has a simple mission:
"Remember fallen U.S. veterans; honor those who serve; and teach your children the value of freedom."
For the 2022 season, the day fell on December 17.
[Related: Remember, Honor, Teach: What Wreaths Across America means for trucking, and all of us]
For the kick-off banquet, held on Saturday, December 10, Don Queeney was honored for his years of service as transportation director, a position he planned to step down from upon completion of this year's mission.
On behalf of Overdrive, thanks for a job well done, Don.
Owner-operators and small fleet owners who wish to contribute their time next year to haul for Wreaths Across America can do so by getting in touch via this link.
Find all the installments in Long Haul Paul Marhoefer's "Faces of the Road" series of profiles/oral histories via this link.