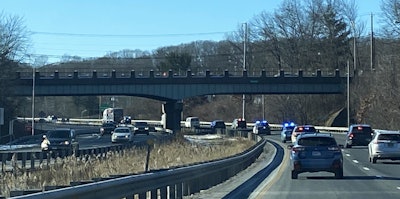 When I first laid eyes on the Wreaths Across America convoy making its way West on I-84 toward Danbury, Connecticut, I have to admit I was a little angry.
I had followed the convoy clear across New England, having driven three hours south from Vermont to catch the Wreaths crew at Western Connecticut State University, but suddenly found myself sitting in parking-lot-style traffic as the convoy's police escort blocked us to make way. When finally the convoy did pass, we crept behind the tail end of the police escort doing a steady 50 mph.
"This convoy is going to make me late to see the convoy," I thought to myself, without a hint of self-awareness. Angry, traffic-induced thoughts kept shooting through my head. "Why do they have to take up the whole highway? Why can't they go any faster?"
As time passed, I thought more. Why does trucking, in many ways a collection of some of the most ingeniously practical people in the world, make its biggest holiday statement with something so symbolic and decorative as a wreath? With 12 trucks from 11 carriers participating in the meandering haul from Wreaths headquarters in Maine to Arlington National Cemetery outside D.C., it's quite the draw.
I bah-humbugged-it like that at 50 or so mph all the way to the venue, finally shuffling into an auditorium filled with police, fire and military veterans in full dress blues carrying their various flags, staffs, and rifles. Soon, I'd have answers to all my questions, and so much more.
The speakers at the ceremony detailed the military and otherwise official aspects of Wreaths Across America, recognizing state representatives, veterans among the audience, the police and fire chiefs, members of the civil air patrol, and probably half a dozen other local leaders. They began to explain the symbolism, that the wreaths would be placed on graves of fallen veterans, their names read aloud, and that the wreaths would sit for as long as the historic Battle of the Bulge had carried on at the height of World War II.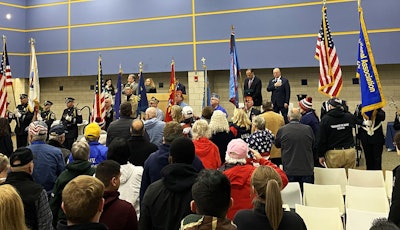 Jean Mariano, a Gold Star mother, meaning the mother of a fallen service member (in Mariano's case a member of the elite U.S. Navy SEALs) and local to the area around Danbury, spoke lovingly about the young man she had lost and how it gave her a chance to become involved in the program. Every year, she reads the names out of 700 fallen service members and places a wreath on each grave, and in doing so she's seemed to find herself just a little bit more at peace with what had happened to her son, and the sons and daughters of so many others like her.
She also was the only speaker to mention the truck drivers on hand for the event.
"There are so many lives both locally and across the country that these tractor-trailers are donating their time, they're doing that free of charge, and when they go to Arlington, there's going to be so many thousands and thousands of wreaths that are placed," she said. "It's all about honoring our veterans, and teaching the ones that had no idea what this is about. If you come to my ceremony, you will see many children. That's what I really like. Children need to honor and remember, and Wreaths Across America, that's their motto."
"Remember, Honor, Teach." That's the motto. Listening to Mariano certainly moved me, but I was still looking for the trucking story in all of this. When the ceremony adjourned and I made my way down to the lot with the wrapped tractor-trailers to "get my story," what I found there I probably won't ever forget, and will hopefully become part of "my story" in a much more profound way than I had expected.
I immediately ran into Steven Meyer, a Virginia-based owner-operator hauling for Hampton Roads Moving & Storage, with a fully decked-out 1998 Freightliner FLD120 and a custom-wrapped 2014 Kentucky trailer done up specially for Wreaths.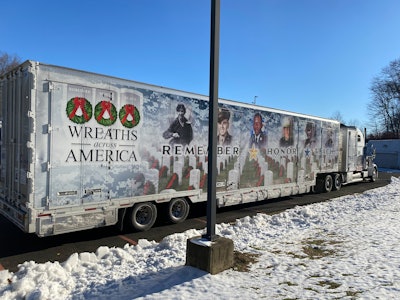 "Are you ready?" Meyer asked me as soon as I identified myself.
"For what?" I asked.
"My story," and with that he launched into a tour of the images on the trailer, highlighting each pictured veteran and their story with the sincere dedication of a historian or direct family relation.
He started with Loretta Walsh, the first female to fight with the U.S. Navy in 1917. Walsh was the first woman in the service with an assignment other than "nurse."
He moved to Paul Arpin, the namesake of Meyer's prior lease partner, Arpin Van Lines. "He's actually a D-Day survivor, second wave. He stormed the beach. In 2010 he was 85 and fell down the stairs and just couldn't recover," he said.
Next: Alwyn Cashe. "His Silver Star was just upgraded to a Congressional Medal of Honor last year," Meyer said. "This guy on October 17, 2005, this man right here pulled six of his soldiers out of a Bradley fighting vehicle while he himself was burning to death. He passed away two weeks later."
Next, Ho Lee, "a Lieutenant Colonel in the Marine Corps," Meyer said. "He's stationed at Quantico right now. He's a finance dude, but at the end of the day, he's a Marine, which means he's a rifleman."
Next, Olga Custodio, the first Hispanic female fighter pilot. Finally, Joshua Chamberlain, of "Chamberlain's Army" fame, who gave a regiment of deserters in the Civil War a gleaming shot at redemption holding off Lee's army west of Gettysburg.

"Now take a step back, what do you see?" he asked. "It's the diversity of America, that's what I wanted to achieve."
Yes, the trailer represented a wide array of eras, genders, races. But in a way each figure on the trailer was the same.
"They're all heroes, and you know what, you'd do the same thing," he told me. "If you saw a woman fall down in the snow right over there, you'd run right over and help." I didn't feel too heroic that day, but I wanted to believe Meyer. With his vote of confidence, perhaps a better, higher standard was in order for me.
Owner-operator Meyer didn't want any personal glory here. He moves household goods for a living. Like all of you, he works through the burdens of rules and regs, high fuel prices, the various calamities and catastrophes of the road, less-than-total confidence in when exactly he'll return home to his family.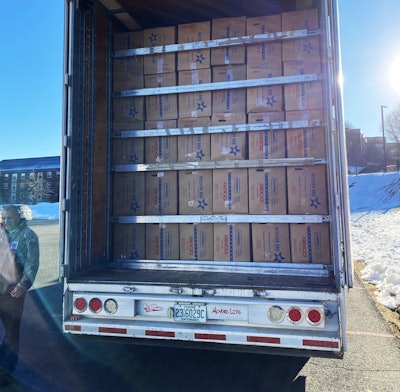 But there is a shared language among heroes, among those who have sacrificed for the good of others. These heroes, a group in which I'll include Meyer and most in trucking no doubt, give their best for their country, for their community, and for their families, in part because they have faith that another hero would rise up on their behalf if called.
Meyer opened up his trailer and showed me the boxes of wreaths stacked high. It was the best-smelling trailer I've ever peered into, though that's not really a high bar.
The wreaths weren't a symbol to Meyer. They were real. Laying the wreaths, speaking the heroes' names, keeping their memory weren't just empty gestures to him, but a ritual act of living out his values, as solid and tangible as any freight you might haul.
So next time the highway comes to a standstill and a police escort shoots past, I don't think I'll be irritated or confused. I'm lucky to live in a country where so many have fought for me to be safe on a highway, for me to be impatient. People like Meyer move this country and its goods and, yes, its history, on to the next generation. Thank you, Mr. Meyer, and the entire staff at WAA for taking the time to remember, honor, and teach this to me. I needed that this holiday season.
[Related: Trucking's next generation engages with Wreaths Across America -- at a quiet event far from the hoopla in D.C.]