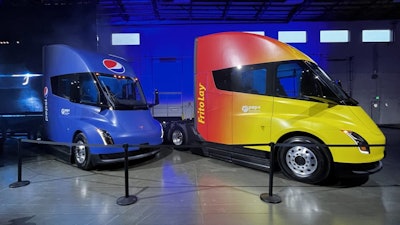 Tesla
Tesla CEO Elon Musk on Thursday beamed with pride as he announced the EV company's long-delayed Semi had finally been delivered to PepsiCo, five years after the beverage giant had ordered 100 of them.
"I can't believe it's been five years," Musk said, as previously reported here by Jason Cannon, after bobtailing a Semi to the stage. "A lot has happened in the world but here we are. It's real... It looks sick. You want to drive that. It looks like it came from the future. It drives like a Tesla. If you're a truck driver, and you want the most badass rig on the road, this is it."
Tesla claims the Semi has "three times the power" of any diesel truck on the road and can accelerate "from 0-60 mph in 20 seconds, fully loaded, and maintain highway-level speeds even up steep grades," but has been vague so far about what "fully loaded" means. Previously, Tesla reported the Semi completed a 500-mile trip at 81,000 pounds, but wouldn't say what the curb weight of the actual Semi was, nor how big the load was.
Otherwise, the rig boasts a host of "active safety features that pair with advanced motor and brake controls to deliver traction and stability in all conditions" and a single seat in the center of the cab that supposedly "gives the driver better visibility, while an all-electric architecture reduces both rollover risk and cabin intrusion in case of an accident." (Interestingly, Peterbilt, in its most recent SuperTruck concept build, also opted for a center seat.)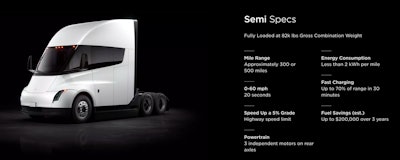 With passenger cars, Tesla has made strides in those safety features, likewise increasingly automated advanced-assist systems. The company makes some pretty hefty claims about the Semi's range and ability, many of which were thoughtfully dissected here last month. All told, it's a pretty big departure from your average truck on the road.
But does it live up to the "badass" label? You be the judge.
Let us know in the poll below! Leave a comment too if you're so inclined, and if you really want to sound off email AlexLockie@randallreilly.com to let us know what you think.