"One funeral home in Cheyenne, Wyoming, alone has sent us seven drivers" –Robert Palm, founder of Truckers Final Mile
I was in the main lobby of the South Wing of the Mid-America Trucking Show when someone grabbed my arm.
I turned around to see a gaunt man. He appeared like what he was, someone who had endured a medical procedure -- somehow, though, he was still smiling.
It was Robert Palm, CEO of TruckersFinalMile.org.
Turns out we were both going to the same place, "West Hall One," so we walked together. Our destination: a fund-raiser for Robert's charity cosponsored by TFC Global and TNCRadio.live.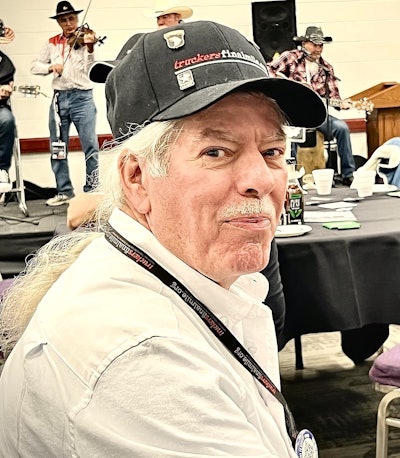 As we took the shortcut outdoors, Robert told me of his recent surgery, a story not atypical of the underserved population to which he has devoted the latter part of his life. Palm walked into an immediate-care clinic somewhere in Texas. "They said, 'First thing we're going to do is get you an ambulance,'" as he told it. A long-needed surgery was performed. He wound up flat on his back, his truck broke down and in the shop for weeks.
A gentleman who goes by the moniker "Slowstepping" on TikTok organized a fund drive for him – several thousand dollars were raised on Palm's behalf.
"When I get finished here today," he said, "I've got to find an ER somewhere to get the dressing changed."
Without fanfare or press release, TruckersFinalMile.org last December brought home its 500th driver. A 501(c)(3) nonprofit that has held the coveted Guidestar Platinum rating since its first year, the charity's mission is to "reunite truck drivers and their [families] in the event of loss of life, debilitating injury, serious illness, a crisis at home, or the need to make mobility improvements with their families in the event of a hospitalization."
There are people in this world who are motivated in ways that surpass one's understanding. Here was a man consumed, literally, by a mission to repair a fissure in the social contract with working Americans wrought by deregulation, negligent carriers and rapacious brokers. He's never taken a salary, and he would be on his way to an ER somewhere soon after this fund-raiser. It was taking a minute for me to process all this.
[Related: Things you don't like to think about, but need to]
We entered the doorway to West Hall One. A beautiful banquet had been prepared, courtesy of Ron Fraser of TFC Global (formerly known as Transport for Christ), as well as Tom Kelley of TNCRadio.live. Taylor Barker, leased to Heniff Transportation Systems and the 2019 winner of the Overdrive/Red Eye Radio Trucker Talent Search, was setting up to do a show with his band.
A fiercely loyal group of around 30 supporters had gathered. There was a fresh energy in the room.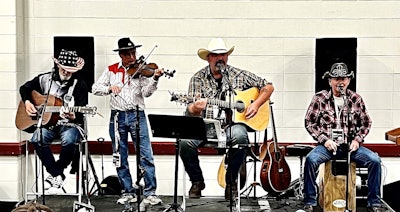 TFC Global's Ron Fraser said he "first met Robert on a cold wet day at White's Truck Stop [in Raphine, Virginia]. I was so taken by his dedication that I wanted us to find some way to be a part of his work."
Turns out TFC Global, whose chaplaincy to truckers now spans a tenure of 73 years with outposts as remote as Tanzania in East Africa, was joining forces with TruckersFinalMile.org. Palm, though the years, has been "all by himself," Fraser said. "He wants to create a legacy for his organization. With his direction and our organizational capacity, we can help with that."
Truckers Final Mile has certainly seen its share of thorny obstacles as an organization. A Midwestern-based mega-fleet with revenues north of $6 billion continues to refer the families of their drivers who perish on the road to the charity.
"Every year, we've asked this corporation if they'd care to make a contribution so we can continue our work," Palm said. "We never hear back. ... There is no regulation, no mandate, no law that compels companies to bring their drivers home. The union outfits we never get a call from. You never get a call about a guy who works for Yellow."
As a recent story about Truckers Final Mile published by the Guardian reports, "For unionized truck drivers, this issue is nonexistent, as language in master agreements covering over 100,000 truck drivers ensures companies are responsible for transporting workers and covering expenses in the case of a fatality, illness, or injury on the job."
Among nonunion carriers, Palm noted, are plenty "outfits out there like the Kenan Advantage Group and J.B. Hunt who take care of their drivers if something happens. Then [these companies] turn around and donate to us. One funeral home alone in Cheyenne, Wyoming, has sent us seven drivers. The last was a driver whose company would only put up $2,000. We stepped in to cover the rest."
Rhonda Kline, office assistant at that very funeral home -- Schrader, Aragon & Jacoby Funeral Home in Cheyenne -- remembers the last one very well.
"We've had seven drivers in the last year," she said. "Most were from wind and road conditions. There was one older gentleman with an embolism. The last one, [Robert] actually called me to make a payment from his hospital bed while he himself was in serious condition."
[Related: 'Estimated opening time is unknown': The 'winter from hell' on I-80 in Wyoming]
The concert had started. Taylor Barker and his band were playing their hearts out. The Swedish meatballs were off the chain. They had even catered in Boursin cheese.
After a time, Tom Kelley of TNCRadio.live was on the stage. "We've just received pledges from Road-Ex, Fullbay Heavy Duty Diesel Software, Hotshot's Secret, and Golden Eagle!" he said, all in the thousands of dollars.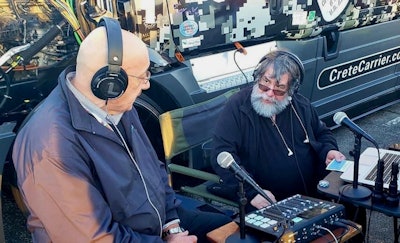 I remembered the last time I spoke to Robert, before he got sick. I had to know whether all this commitment of his was all just some way to resolve his own past trauma of being in an accident himself. Of having to recover the remains of his own brother after a fatal accident. He paused for a while, and answered thusly: "I made a promise to God."
My conversation with Rhonda Kline from the Wyoming funeral home continued. "He's never let us down," she said. "He's never balked. He's come to my rescue over and over again. We love him."
For more information, visit the Truckers Final Mile website.