The folks behind the Trucker Path app annually take hundreds of thousands of app user-generated ratings and comments and put together a list of the Top 100 truck stops around the nation. The company shared with me a bevy of comments app users had made about those Top 100 stops. A picture of excellence emerges from the accolades heaped on favorites, and more stops around the nation should take heed.
It could mean success or failure in their efforts to effectively support OTR operators. And stay in business, as it were. Over-the-road owners and drivers spend thousands annually at truck stops. Paying respect by going above and beyond basic necessities and showing appreciation in other ways … well, that's sure to win any stop customers for life.
What brings the customers in the first place: Parking
Most fundamental to the collection of user commentary is perhaps the most fundamental thing any truck stop needs. The top reasons drivers choose a truck stop listed below are the necessities, essentially:
Showers

High-speed diesel at affordable prices
Good food
Getting repeat business is all about the niceties. Providing both parking and amenities makes for a top 100 truck stop experience. Parking characteristics happen to be both the top reason drivers stop at a particular truck stop and the top reason they return, according to Trucker Path's survey of users. Beyond availability, truckers want spaces that are simple to to get into.
App user @Precise gave Bert's Travel Plaza in Wellsville, Kansas (ranking No. 4) kudos for "parking spaces with a lot of room to maneuver."
Surface matters, too. Commenting about Kwik Star #303 in Brooklyn, Iowa (No. 13), @CatMomDriver flagged its "great parking lot. Lots of room to maneuver. Lots of parking spots. The pavement is in great condition and will not eat your tires."
Security on the lot is important.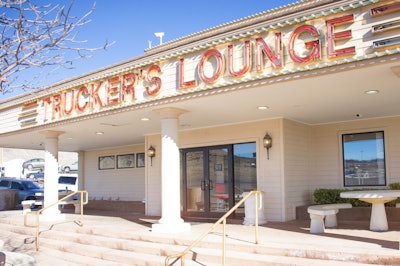 Cleanliness is another major theme -- both on the lot and in the store. And though paid parking with the ability to reserve a spot has grown as a feature of the lot experience among owner-operators, Trucker Path noted its analysis of ratings and commentary showed paid parking to be a sure way to sully an otherwise good experience.
[Related: Paid truck parking: 'Operational benefit' or 'last resort'?]
There's no surer way to clean up the experience than a pristine shower. "I almost cried when I saw the shower," said @TexasKerrie about Stone's Truck Stop in Watertown, South Dakota (No. 8). "Good-sized shower room, and a large shower head. It felt absolutely wonderful after being in snow and slush for days."
Top-rated stops invest in the shower experience -- truly great showers bring the comforts of home or a nice hotel to the road. "Shower head was as big as a dinner plate. Clean as can be," said @SolJ02zKsj about the showers at Stone's.
"Clean, warm shower, just like home," wrote @Roadrunner80 about Love's Travel Stop #836 in Dalhart, Texas (No. 14).
According to Trucker Path's survey of users, most OTR operators willingly pay $8 for the luxury of a clean shower, yet some truck stops in the upper echelon in the rankings provide them at a different price. Rainbow Trucker's Lounge (also rated No. 1 among independent stops) demonstrates the big impression free showers leave with drivers, "The shower rooms are spacious, clean and absolutely free for CDL holders!" wrote @Hunni. "Towels and soap are provided."
[Related: 'The more essential I'm gettin', the stinkier I get' ... Another COVID week gone by]
Food for thought -- sustenance truckers crave
Hands-down, the quality of the cuisine at a truck stop elicits more commentary than any other amenity. The basics are key -- fresh food and friendly service. Truck stops that go above and beyond what you'd expect on the menu, then, stand out.
"This is one of my favorite stops when I get the chance," said @fubar about Stone's Truck Stop. "Good parking, great friendly service, very good restaurant."
Kwik Star #1071 in Davenport, Iowa, topped the Top 100 list, and was a standout on the food front for both variety as well as quality.
Another operator called the stop "absolutely the best truck stop I've been to! Hot food selection is great! Four different flavor chicken wings, about eight different breakfast sandwich choices, breakfast burritos, fried chicken, pizza by the slice" or a whole pie.
As previously noted, cleanliness was earmarked at all top-rated stops -- and that extends to the cuisine on offer for some. Healthy options from fruits to vegetables and a variety of fixings for those who prefer to prepare their own meals drew reviews.
"This is one of my favorite truck stops because of the big parking lot and fancy grocery store inside with healthy and tasty food options," wrote @Azathoth about Kwik Star #303 in Brooklyn, Iowa (No. 13). "I wish more truck stops had a nice grocery store like this one does."
[Related: One-pot chili mac, from the 'deckplate diner' of owner-operator Thomas Remington]
On the restaurant front, options beyond national fast-food chains garner special recognition. "Taco John's was an unexpected surprise for dinner," wrote @MarkeyB after visiting Love's Travel Stop #827 in Moses Lake, Washington (No. 2).
@Cap'nSlow boosted Stone's Truck Stop for its "good, 'real' food. No fast food cr*p here." Another who dined at the stop's Grainery café wrote, "The walleye is to die for and everything about this place is top-notch."
Much of the prepped-food magic is local. Workman's Travel Center in Ozark, Arkansas (No. 5), features a restaurant called Hillbilly's Hideout. One driver had this to say about it: "I ordered catfish and fries and a beef brisket sandwich. … A real man's Paradise."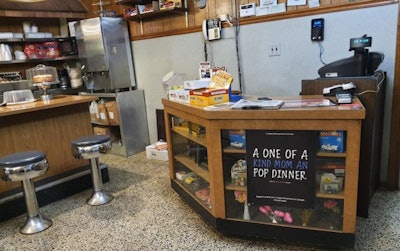 Saluting the people behind the counters, in the kitchen, turning the wrenches -- who salute you
Deep-seated respect and appreciation for over-the-road work and business are definitive qualities of the men and women who work the counters, the tables and the service shops of any top-rated truck stop.
Kwik Star #303 is a case in point. @traveling guy called the Iowa stop an absolutely "awesome place. Great food. They care about the customers and it shows. More places need to be like this place."
Work and service ethic correlated with other valued qualities. "I have never been to a Love's where the staff is so friendly and helpful," one operator opined about Love's Travel Stop #799 in Walnut, Mississippi (No. 11). "It's like that every time we stop here. The showers were good, the parking easy and plentiful. Thanks for treating us like we matter."
With their aforementioned free showers and more, the Rainbow Trucker's Lounge has a particular appreciation tactic down pat, as @HottieRacing has it: "What a great little place that truly appreciates truckers! Tons of free parking, FREE showers. FREE ice. FREE coffee no purchase required."
Others stacked up accolades with pet-friendly policies, like Flying J Travel Center #773 in Richfield, Utah (No. 18). It's embraced dogs in a special way, as one operator noted: "Even though my dog is a service dog and has a vest and papers, [I've] seen others inside without a leash and without a service vest. This is how it should be. You're welcome to bring in your pets."
Other top-dog stops built in parks where pets and owners can stretch out. The Pinehurst Gas N Go in Pinehurst, Georgia (No. 15), made an exceptional effort, wrote @Scatcat. "This is the BEST dog park I've ever come across out here." Another operator described their dog park as something of a training ground with "a large and clean dog park for the hounds, lots of challenging obstacles, and plenty of room to run."
Here's a salute to all the stops out there doing it right -- those flagged by Trucker Path with its rankings no doubt just scratch the surface of all deserving of recognition. Take the time to shout-out your favorites in the comments here, or get in touch with me directly via tdills@randallreilly.com with any rumblings and recommendations.
[Related: Truck stops see enduring shifts in food, other services in pandemic's wake]