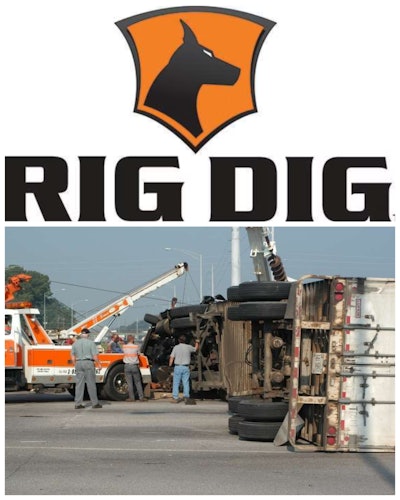 I'm happy to announce that over the weekend, a new site within Overdrive's ecosystem went live for used-truck history reports.
Truckhistory.OverdriveOnline.com is now the central site for the RigDig Truck History Report, offering prospective used-truck buyers verified information on a piece of equipment's title, odometer, total loss, inspection, crash and other histories.
The move to the new site came with significant updates to the individual user experience downloading a report, said RigDig BI Client Success Team Lead Adam Morrison. "It's built specifically for the owner-operators," who can rest easy "knowing they've got a tool to give them transparency" about a vehicle's history.
Morrison feels updates aimed at speeding the report lookup/purchase process ought to eliminate prior "hassle and barriers to getting the report that they need," he said. No more account set-up requirements, for instance, he added, enabling users to quickly type in a vehicle's VIN, add contact information and a method of payment, and get their report. "We've streamlined the process significantly" for more quick transactions.
One report costs $34.95.
From the beginning of the RigDig Truck History Report's existence now more than a decade ago, it's operated with a goal of providing transparency to commercial truck buyers, recognizing that "in the consumer space," Morrison said, use of "history reports" like the Carfax service is "ubiquitous."
"If you're buying a $150,000 truck, you should probably be able to get a report," too, on the history of what will be your most important business tool, he added. You'll learn about not only junk or salvage title brands but also -- via the inspection, crash and total loss claims histories -- "where the truck has been, who's been running it," and whether it's been involved in an accident that could warrant further investigation of past maintenance and current condition.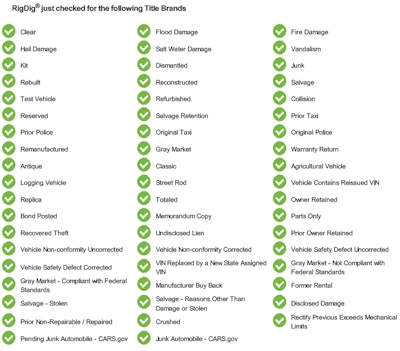 Plenty of dealers, too, use the report to protect themselves on trade-ins. For past history-report users buying in bulk and running 10 or more reports monthly, RigDig BI will be the venue for accessing new reports. High-volume users can contact the company for a quote on pricing via this link.
Users with longtime accounts for reports at RigDig.com are urged to download any reports run within the previous 90 days they would like to keep, as these reports will not automatically transfer to the new platform. Access to downloads via my.rigdig.com will continue until Oct. 10 to allow customers to download any previously purchased reports. The support team remains at the ready to assist users via [email protected].
If you're among owner-operators, the most-common single-report users, you can access the new RigDig site now on Overdrive via this link to run a report anytime.
[Related: What to look for when buying a used truck]