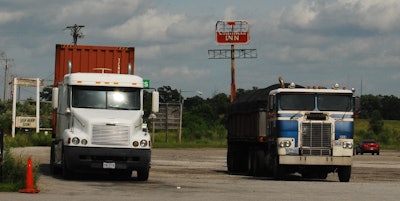 Calls to our voicemail line (530-408-6423) continue to come in from drivers around the nation in response to the Detention détente series of reports, many of the latest round running counter to the majority of operators who favor solely industry/market-based solutions to the problem of uncompensated delays at shipper and receiver docks. As reported in the last post on the subject in Overdrive's Voices series, highlighting driver views and the debates around critical owner-operator/driver issues, faced with a choice between mandatory detention pay to drivers and the continuing market-based, voluntary approach to detention pay, only around a forth of poll respondents indicated a favor for the regulatory/legislative apparatus getting involved.
In the podcast below, that minority speaks out, and likewise other operators voice support for a view of the detention solution a little different than the Obama administration's approach in the Grow America Act highway bill draft, in which it proposed to mandate at least the hourly minimum wage be paid by carriers for on-duty not-driving time.
"You cannot regulate a third of the total business, said Rochester, N.Y.-based Jeremiah Hurley of J&T Transport. "You've got the shippers and the brokers, and you've got us. If the government wants to step in and regulate us, they need to regulate the shippers and the brokers. Otherwise, everybody's just pissing in the wind." More voices in the podcast, which follows.