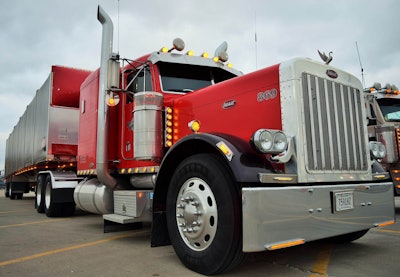 I had the rare opportunity the day of the Super Tuesday primaries to make part of a run with Kingston, Tenn.-based Ted Bowers, owner of the small trucking company that bears his name. We didn't talk politics much, as you can hear in the podcast in this post, but rather took a run through the challenges Bowers has faced in the recent and more distant past — health issues that brought on excess debt, for one, that was solved with help from a part-time accountant he hired on after providence brought the two together when the flatbedder was hauling out of Olympic Metals in Loudon, Tenn. A great friend and business partner to this day, Teresa Coffey dealt with creditors, he says, by establishing weekly profit targets for the then-leased owner-operator and his old Walmart fleet truck of a cabover International, putting together payment plans with the creditors, and so much more.
The story, among others, is a testament to what you can do with the right partners in the business — Bowers has re-established his authority today after that episode, and he's the owner not just of the 2005 Peterbilt 379 he drive himself but another truck, driven by Jim Mass, who operates much like an independent would, taking care of most issues himself both with the truck and the loads he hauls through Greeneville, Tenn.-based Everhart Transportation's brokerage.
Our run loaded in Knoxville, Tenn., near Bowers home base — scarcely 3,300 lbs. of stainless tubing from Morris Coupling bound for the Oskaloosa, Iowa, facility of Cablevey Conveyors, makers of tubular-drag conveyor systems for agricultural applications.
I jumped on here in Nashville and spent the next several hours with Bowers in his Cat C15-powered custom stretched Pete up I-24 and I-57 well into Illinois. From there, Bowers would take it on up to unload the following day, then as usual with this regular round would either run a brokered load from Centerville, Iowa, or deadhead to East Chicago, Ind., to pick Ryerson steel, one of his regular accounts, back South toward home.
He makes the round every two weeks, he says, one of a couple different regular runs he's managed to put together the last several years for, last year, an average $2.18/mile revenue for all miles.
Ride along for a bit of the in-cab conversation we had in the podcast here, and find more via the pictures that follow.