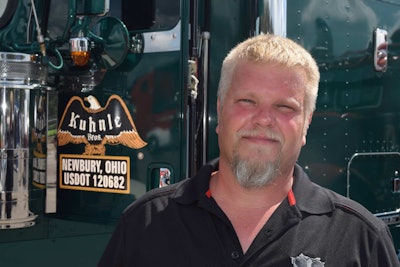 "The more you talk about the problem, the faster you heal." –Kuhnle Bros. driver and former owner-operator Brian Rudisell
Around a decade ago, Brian Rudisell experienced something that is tragically common among truckers, as reporting by Carolyn Magner last year made abundantly clear. In this edition of the Overdrive Radio podcast, Rudisell details a "suicide by truck" event that derailed his dump bucket hauling for two years, which included reconstructive surgery on his ankle and, essentially, "learning to walk" again.
But the physical aspects of recovery from the head-on crash weren't what was the most difficult to overcome. The lack of trust in those with whom you share the road is something that those who experience such events often speak of.
In Rudisell's case, it was strong enough for him to for a time swear off trucking altogether.
Eventually, however, finding fellow drivers who've been through similar things with whom to share his own experience has kept him — and, in many cases, he says, them — from throwing in the towel on something he truly loves. That's trucking.
Rudisell drives the 2005 Kenworth W900 you see here for Newbury, Ohio-based Kuhnle Bros., pulling tank. Look for the driver and his truck this month at the Great American Trucking Show in Dallas, where he plans to show in Overdrive's Pride & Polish competition. (Find more about it via this link.)