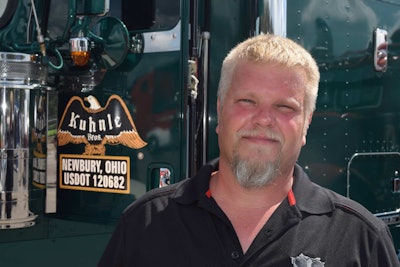 Brian "Rudy" Rudisell has really gotten to know the regulars out on the Pride & Polish circuit this year — that, at least, was clear to me hanging around at the Crossville, Tenn., Pride & Polish edition a couple weeks back with the driver's Kuhnle Bros. 2005 Kenworth W900. Rudisell, working with Kuhnle Bros. shop staff, fulfilled something of a lifelong dream of his with the truck: namely to compete at the shows with the best of the best out there.
Between bits of our talk there, which you can listen in on in the video above, Rudisell joked around with Joel Dawes, whose bright red Dawes Contract Carriage, uniquely aero custom Kenworth T660 bested Rudisell's W900 for Best of Show in Working Combo. After a follow-up visit from the judges for both rigs, Rudisell said, "It must be close. It's either me or you, Joel."
Unfortunately for Rudisell, he remained out of the Best of Show rigs in the National Championship this year, but that won't stop him from heading to Dallas, he says. He's doing the entire Pride & Polish circuit this year with the Newbury, Ohio-based tanker fleet truck. Hope you enjoy the run through its features in the video. Findmore from our Custom Rigs playlist below.