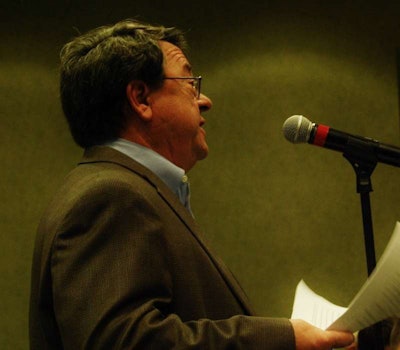 Dave Owen, head of the National Association of Small Trucking Companies, and Terry Frey of the BigRoad smartphone-app-based logging device and full-fledged ELD provider, appeared jointly in a session last Friday at the Great American Trucking Show, where Owen delivered the address you'll hear in the podcast above and below.
Owen believes that programs such as BigRoad in their most basic forms — available free of charge to operators as stand-alone hours recording apps on smartphones/tablets that are not synced with the engine — offer powerful tools to small fleets to solve what's been an outsize problem for that group: high numbers in the Hours of Service BASIC category of measurement under CSA. Such programs provide a "real-time log audit," he says, on "every truck, every driver … that you can edit."
In his address, he encourages those not doing so today to utilize such programs, "before they make you turn it into an ELD" by syncing with the engine, to do what they're designed to do as a "spellcheck for logs": solve the problem of form-and-manner mistakes represented in safety scores and stats. "Don't pay us $20-$25 a truck to do your log audits for you. … When I initially got excited about BigRoad, it was about this — log audits."
The NASTC/BigRoad session was one of two at the Great American Trucking Show devoted specifically to hours of service and the coming ELD mandate, and talk about the mandate throughout the many conversations I had over four days in Dallas overshadowed even news of the speed-limiter mandate proposal released last Friday, while we were there. Most owner-operators continue in a holding pattern on ELD implementation awaiting the outcome of the Owner-Operator Independent Drivers Association's lawsuit to block the mandate. About which, said Owen:
The reason [FMCSA] mandated [ELDs] is because the big companies had to go to [ELDs] because they turn drivers over so much they could never get drivers trained enough to do it under the complicated system. … They mandated it once, and OOIDA sued them – OOIDA's suing them again, and I hope they prevail again. In the meantime, however, because of the bell-shaped curve of CSA, we've reached a tipping point — if you don't go ahead and bite the ELD bullet, and you're running long, your numbers in CSA are going to get …
Worse and worse, as he sees it, as others get ELDs.
Early on in his presentation he told an old joke I've heard him tell before about a couple campers in their tent when a bear shows up and starts crashing their campsite. "One guy rolls over, gets out his flashlight, gets his duffel bag out and puts his shoes on." He opens a Snickers bar and starts stretching his hamstring.
What are you doing? the other guy says. You can't outrun that bear.
But he doesn't have to, of course. "I've just got to outrun you."
"You can't outrun the bear," says Owen, "you cannot outrun the larger carriers, who have millions of dollars … to throw at safety. But you don't have to. As a small trucking company, you just have to outrun your peer group" when it comes to safety scores. Electronic logs — whether a full engine-connected ELD or not — gives any small operation getting enough inspections to register in the CSA program a bit of a speed boost in the race, he believes.
Podcast: Play in new window | Download