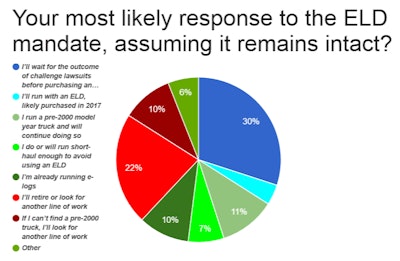 If you missed it, follow this link for the first part in this two-part piece on the market for ELDs:
Since the ELD mandate's introduction in 2014, the share of owner-operators reporting they would leave the industry if an e-log mandate came to be has fallen sharply. That could be due partly to the sizable exemptions FMCSA included in the rule, partly to the cooling nature of strong emotions with time. In 2014, following FMCSA's release of its proposal to require e-logs, 63 percent of owner-operators reported they would retire or look for another line or work if such a mandate came to pass. Surveying via OverdriveOnline.com in April told a different story.
Your most likely response to the ELD mandate, assuming it remains intact?
If numbers from this most recent polling are correct, 18 percentage points of the 31-point decline since that time can be attributed to pre-2000 model year and short-haul exemptions included in the final rule.
Meanwhile, a third of owner-operators surveyed via OverdriveOnline.com in April indicated they would wait a considerable time before making a decision on just what to do relative to ELD acquisition.
Most of that third, 30 percent of all poll respondents, were basing that determination not on ELD market considerations but the potential outcome of a legal challenge of the mandate by the Owner-Operator Independent Drivers Association. If the rule is thrown out or sent back to the regulatory drawing board, such reasoning goes, why invest now? Another 4 percent of readers put the likelihood of an ELD purchase well beyond this year.
Landstar-leased owner-operator Gary Buchs sees that logic clearly. He emphasizes that confidence in any vendor's ability to conform to FMCSA's technical specifications for ELDs – and remain in business – should be a key consideration in assessments. Buchs began using e-logs in recent years, running leased to Landstar with an Omnitracs e-log system.
"You don't want to do it twice," he says of the transition to running electronic, which could happen "if something goes wrong and the [e-log vendor] goes out of business suddenly," ceasing support for a month-to-month subscription-type product. Most available e-log systems today are structured that way, Continental's VDO RoadLog the exception.
"When I look out here at all the companies who are thinking they'll do the ELD thing, they make me nervous," he says. If you're in the trucking business for the long term, don't "wait until the very last minute," he says, to do the research and to test out free non-engine-connected electronic log book apps to inform an eventual decision. There's something of a learning curve in running electronic, he adds.
There is some evidence of more operators in the small-trucking world moving into the electronic realm, at least on a trial basis. BigRoad's log book app is capable of being paired with its DashLink engine connection for a full e-logs solution, but the app, BigRoad President Terry Frey believes, is being used (minus the DashLink) with much more frequency since the mandate's announcement.
Frey sees a boost in downloads of the app as evidence more drivers are showing interest in trying out computer-assisted logs in advance of the mandate.