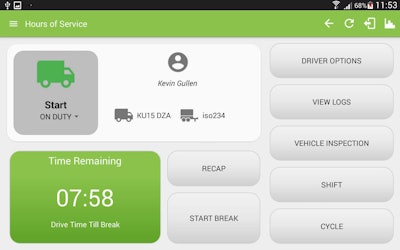 A new electronic logging device was recently released that offers several features to help drivers stay hours-of-service compliant. Isotrak has announced the release of its new hours-of-service compliance app, which the company says has an intuitive and easy-to-use interface for drivers.
Editor's note: A previous version of this story incorrectly implied that the device had been certified and listed on the Federal Motor Carrier Safety Administration's list of electronic logging devices, available at this link. It has not.
FMCSA's Duane DeBruyne notes that "carriers and drivers subject to Federal Motor Carrier Safety Regulations (FMCSRs) who are using paper logs or logging software, must transition to ELDs by December 17, 2017," under the terms of the ELD final rule. "Carriers and drivers using automatic onboard recording devices (AOBRDs) before December 18, 2017, may continue using AOBRDs through December 16, 2019."
Isotrak says its app can integrate with existing workflows and device infrastructures and has a paperless reporting feature. Other features include:
• Time-remaining displays, shipping information, duty statuses and drive distances
• Alerts to drivers through their phones to avoid hours-of-service violations
• Color-coded panels that shows drivers when they're required to be on- or off-duty
Isotrak also has a complementary Driver Vehicle Inspection Reporting (DVIR) feature, which allows drivers to submit pre- and post-trip vehicle inspection reports through their mobile devices. The DVIR has the option to upload photos and comment on specific areas of a vehicle that need attention, and electronic signatures so drivers can review and sign off on repairs.