FTR Transportation Intelligence COO Jonathan Starks reads his company's Market Demand Index and associated metrics for individual segments, based on tracked load- and truck-availability data from Truckstop.com, as showing an overall spot market that is moving back toward a favorable one for carriers. Starks spoke today at Truckstop.com's Connected 2016 user conference in Dallas, attended mostly by brokers but also some carriers.
As load availability fell off last year and into this year to a certain extent, available trucks seeking out loads didn't move nearly as quickly, he noted. "Through the first three quarters of this year," Starks said, in the spot market writ large "we're still well below 2015 for the number of loads in the system. In terms of truck availability, however, the supply [of trucks] has gone down"
Looking long-term, "it's moving in a positive direction for truckers as the number of available trucks falls," he said, a dynamic that could be compounded by productivity-limiting regulatory wild cards like the FMCSA's mandate for most interstate truckers to utilize electronic logging devices by the end of next year.
At once, "it's tough to get a solid sense" of when companies that aren't utilizing them will "pull the trigger" on ELDs, he noted, potentially impacting capacity with a per-truck drop in productivity or the smallest carriers choosing to close shop rather than comply with the mandate. Overdrive's most-recent assessment of readers' plans for ELD adoption showed 32 percent of owner-operators considering either retirement or a search for another line of work rather than running with an ELD, assuming they couldn't find a 1999 or older model year truck to put them in the ELD-exempt category in the mandate.
Another approximate third in those results were waiting for a verdict in the Owner-Operator Independent Drivers Association's mandate-challenge lawsuit before making any moves toward ELDs. Given the recent ruling against OOIDA's challenge — and though a further challenge may be in the offing, according to recent reports — ELDs' affect on trucking capacity, demand and rates could start to be seen in relatively short order.
It's not only van demand that has strengthened to truckers' favor in recent times, Starks noted. His overall positive assessment for carriers in the spot market heading into next year is made possible by flatbed finally stabilizing after the big demand drop with the sidelining of a lot of oil/gas-service-related freight. Flatbed is finally showing some strength and reefers some of the same growth seen in the van segment.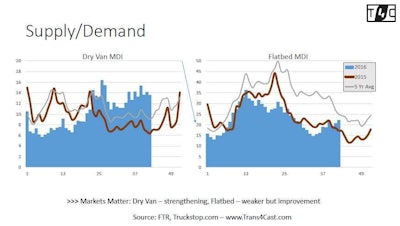 Beginning about two months ago for flatbeds, as the above slide shows, the MDI for flatbeds "has been moving solidly positive," Starks said. "I can definitively state that the market has turned and is trending toward a trucker's position. We finally have a flatbed market that is outperforming expectations for about two months now. It will take some time before that transforms how people see the marketplace – and it's still a weak marketplace, but moving in good direction for truckers. The change in rates will come, but will take a little more time."