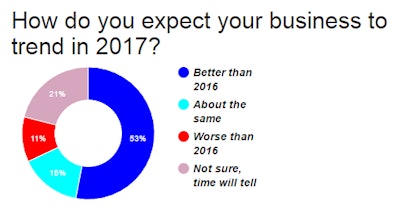 At least, that is, compared to the year just ended, which saw continuing profitability issues for many as rates and slow freight plagued a good bit of the first half or two-thirds of the year particularly. So we can take the optimism expressed in these results with a crunchy-good grain of road salt or sand, as it were (how's the weather where you are, eh?):
How do you expect your business to trend in 2017?
That was, for sure, the point of view of the few who commented on the question posed by the poll. Tom Puckett, commenting on Overdrive's Facebook page, was nothing if not curmudgeonly on the prospects for improvement, as he was this time last year: "Rates will remain in the sewer, believe it. They ain't coming up!" he said, while Richard Elliott noted that there were simply "too many trucks" in the supply/demand equation in relation to the freight available.
But the relatively strong environment in the spot market through the extended Christmas freight season this year for vans and reefers, paired with general uptick in a variety of economic indicators (including the stock market) through the latter part of the year, told a different story. For the first time in the three years we've been running this poll, an actual majority of respondents held a positive outlook for the year ahead.
Income figures from clients of ATBS, including independents, three quarters of the way through the year, as Overdrive Editorial Director Max Heine reported after Q3 numbers came in, were on track to match overall income averages from 2015. From that report:
Average monthly revenue grew from $11,354 in the first quarter to $12,214 in the third. That growth was partially offset by rising fuel costs, but net income grew from $14,550 in the first quarter to $15,290 in the third. Net income per mile, though, rose only a penny, to 54 cents.
The biggest rise in income per mile over the three quarters has been for leased flatbed operators, 68 cents to 73 cents. Dry van rose from 51 cents to 53 cents. Reefer dropped from 43 cents to 40 cents.
Based on the third-quarter net income for ATBS clients, the annualized rate (for all) would be $61,160.
Independents with their own authority were right there on par with the overall average, showing an annualized business income after expenses of $60,887, by my calculations, based on income averages through September.
A much smaller share of respondents to the poll above this time last year (27.5 percent to be exact) expected 2016 to be better than 2015, but for some, if trends shown in ATBS' income numbers are any indication, combined with the modestly improving rate scenario we've seen in the last quarter, annual income numbers might well be holding a surprise for some owner-operators. What's your final tally looking like for 2016?