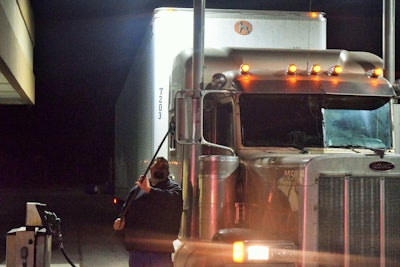 In the podcast up top (and embedded in the player below), what you'll hear is part of the many conversations I had with Buckland, Ohio-based owner-operator Scott Reed over two days on the road last week. It tells the story of what Reed sees as a certainly less-than-ideal hours of service rule when it comes to his operation. He's leased to Ohio Transport out of Middletown, Ohio, and works with agent Greg Simpson to stick within about a 200-mile radius of his home.
Part of the reason he runs this way is, hey, there's money to be made doing short-haul, with generally higher rates per mile to the truck. But also in this case a personal consideration: Reed's wife, Stephanie, is pregnant and due fairly soon, in addition to being home with a young daughter, Raelynn.
That money to be made, of course, can be better than longer-haul loads if delays at shippers and receivers — in his case often two picks and two drops over the course of any single day — don't eat up all his on-duty time. Run through the timing of the two days via the pictorial narrative below, and take a listen to Reed's decision-making considerations and advocacy for greater hours flexibility as an option for better safety in the podcast.
The conversation portion of it was recorded in-cab at the start of the second day, running from a starting point at 4 a.m. from Truck World in Hubbard, Ohio, toward a destination in Findlay at Graham Packaging. Take a listen.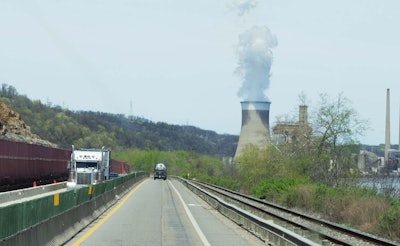 The next load picked up in East Palestine, Ohio, about 70 miles due north from Tridelphia. Construction on route 7 turned what should have been about an hour and 20 minutes' deadhead into nearly two hours.
As it was, we had to hustle to get to a truck stop in time to shut down to ensure a full 10-hour break before 4 a.m. next day, due north from East Palestine at the Truck World independent stop. That all rolled fairly smoothly, though Reed got something of a second wind and ended up having some trouble getting off to sleep early that night. 4 a.m. came quick. Nonetheless, the unload in Findlay happened in just more than an hour that morning, and the next shipper was a mere 25 minutes away. Tuesday proceeded more or less in a manner similar to the previous, but it wasn't totally without further hiccups, including damage to the interior of Reed's trailer he's still yet to sort out with the shipper it's clear did the damage. (Ugly metal pieces destined for scrap at Omnisource in Toledo, it seemed clear, had gouged the walls during load.)
But with shorter distances between loads, Reed was under his second full load for the day when we shut down 13 hours into the 14 near his home. Two picks and two drops were made on that second day, one drop better than the day prior.
$1,400 in revenue to the truck had been garnered if you count the last load, but it wasn't over yet. When I hopped in the car I drove from Nashville at around 6 p.m. to start heading back, Reed enjoyed a home-cooked meal and was set for a delivery early the next morning at a Whirlpool facility in Greenville, Ohio.
Along the way, too, he'd gotten a call from a legislative aide to Arkansas Senator Tom Cotton, a result in part of his recent visit to D.C. to speak to lawmakers about his opposition to the ELD mandate, to the lack of flexibility in the hours rule and more. He planned a May 10 meeting with Cotton's D.C. office to continue the discussion. Read a little more about his recent efforts in these prior posts: