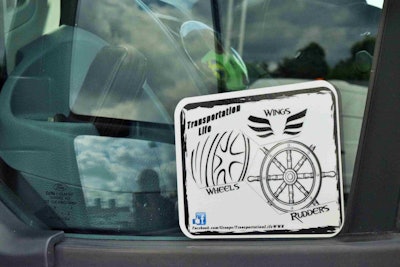 Owner-operator Tim Paxton of Akron, Ohio, leased to Arkansas-based Barrett Directline, as previously reported came out on top in the 2018 Expediter of the Year awards program at Expedite Expo this year.
In this edition of Overdrive Radio, recorded prior to the announcement of his award July 21 at Expedite Expo, I sit down with Paxton as he lays out a variety of challenges faced by his and others' small-vehicle trucking operations.
That's right, Paxton runs in a cargo van, a 2017 Ford Transit — every load is below 3,000 lbs., keeping his gross weight below 10K, meaning there's no need to keep a logbook, among other things. That's led in part to an intensification of late of a dynamic among cargo van operators that has long been a reality — a push by some around the expediting world to squeeze as many miles and as much time as possible out of operators. Paxton emphasizes captain-of-the-ship notions of responsibility, however, and with him are a growing cohort of van owner-ops coalescing around these and other messages, sharing business insights and more in a Facebook group he helped co-found.
As with others there, Paxton's got an eye on the successes of the niche freight operation, too, though, from a healthy income for his family to the opportunity to learn afforded to him by his ever-growing community. Take a bit of a dive into the ins and outs of the niche in this week's edition of Overdrive Radio. Take a listen:
Podcast: Play in new window | Download
Also in the podcast: An update to the story in last week's podcast, which told the tale of the demise of the One20 company and its former President's One20 Trucking venture. That former business' one leased owner-operator unit was Lee and Lisa Schmitt's Pete, and the couple had significant difficulty getting paid what they were owed as One20 shut down between May and June.
In the report last week, I mentioned that Christian Schenk, formerly over One20, Inc., and owner of One20 Trucking, said he expected the Schmitts "would be happy" with regard to the remaining money owed – more than $4000, according to the Schmitts – by the end of the week. The end of last week, mind you.
When I reached out to Lee this week, he'd not heard a peep from Schenk, he said.
So much, so far, for expectations of happiness, I suppose.
Catch owner-operator Tim Paxton's Youtube videos via this link to his "My Life's Ventures" channel. The "Transportation Life: Wheels, Wings and Rudders" Facebook group you can find here. And following is one of Paxton's many vids, documenting in part a trip to Egypt, Texas: