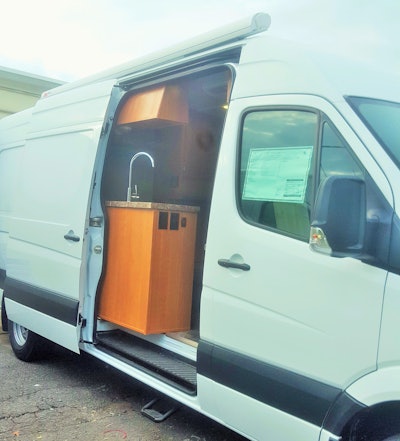 In this week's edition of the Overdrive Radio podcast, following last week's talk with Load One's John Elliott about significant challenges in the cargo-van-powered segment of the expedited trucking niche, owner-operator Darren Ayres of Arkadelphia, Ark., details his own place within it hauling in a Mercedes Sprinter Van. He and his co-owner-op wife, Trish, run leased to Landstar and with (as suggested by the title) a sizable sleeper area as an on-the-road living quarters for their mostly military-freight-specific operation.
Working with Fastlane Products of Oak Ridge, Tenn., after they took delivery of the base van, the pair planned the sleeper with two bunks along the driver-side wall leaving space for more amenities, including a sink and storage spaces, that Darren details in the podcast. The sleeper addition and overall upfit with auxiliary roof air, an inverter and more in 2017 came at an additional roughly $20K investment over the sticker (around $45K) on the diesel-powered Sprinter. The approximately 8 feet of cargo space the sleeper takes up leaves enough room for two pallets in the cargo area, plenty for often very small loads the pair hauls to military installations.
Those environments are familiar to both husband and wife as retired military themselves. As Darren explains in the podcast, their move into their carrier's military niche was almost like being back amongst family. Stay tuned for views into the interior of the bunk and more in the April issue of Overdrive.
Also in the podcast: A note left on our podcast message line from a North Carolina-based hauler that you might see as another exhibit in the fight for respect on the road. The caller was responding to our coverage of CVSA's policy directive to state law enforcement earlier this year that basically attempts to make official a practice that ought to proceed from basic human dignity – the CVSA policy urges enforcement not to interrupt drivers' off-duty periods for the purpose of doing an inspection. Pulled over late one night on I-85 and inspected at a rest area, the caller notes the inspecting officer's cruiser's flashing lights and external radio speaker remained on throughout the inspection at what the driver suspected (for the speakers) was full-blast volume, transmissions reverberating off the buildings, the trees and many overnight-parked trucks all around. Yet another law enforcement practice that ought not to be encouraged, to say the least…. Take a listen:
Podcast: Play in new window | Download