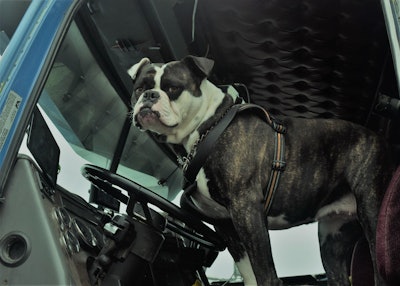 Let's hear it for the self-described "door-swinger," everybody. …
That'd be current reefer hauler and former/still sometime step-decker and flatbedder Rob Goodwin, based up in the Texas panhandle and today running leased to a very small carrier. In this week's edition of Overdrive Radio, we'll hear how he got there, following some years running a small fleet with his authority, then a run-in with a bad broker that cost him well north of $10,000, and plenty business recalibration after that all started a chain of events leading back, ultimately, to a one-truck affair. As noted in my Friday post about his use of the Riteload no-broker, shipper-carrier connection engine for a good portion of his self-dispatched business' freight, the last two years, too, he's found what might be the greatest ride-along companion a dog lover could ask for in his Patty the Traveling Road Dog. Take a listen:
Podcast: Play in new window | Download
Also in the podcast: Introducing Overdrive's collaboration with PRX's Radiotopia podcast network — "Over the Road," debuting Feb. 20. Catch the audio trailer with Long Haul Paul Marhoefer. Visit overtheroad.fm or search "Over the Road" via your favorite podcasting app to subscribe.