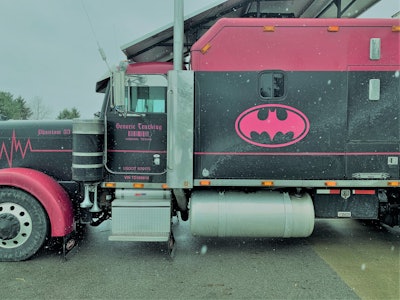 In this week's edition of Overdrive Radio, a window on some of the motivations behind owner-operator Chad Fowler's custom-designed "Solar Peterbilt" 1996 379. The source of that motivation's not all about the wear-and-tear and fuel savings of not idling, instilled in Fowler from an early age by his trucking father; there's a certain amount of environmentalism there in the quest for mostly maintenance-free power.
More owner-operators have of late acted on the increasing availability of relatively affordable solar panels, whether as with Fowler utilizing the type of panel built for stationary use or the more flexible variety built for mobile applications.
In the podcast today, hear more about Fowler's "Solar Peterbilt" and its auxiliary power system (a big step forward from diesel APU-type power from a maintenance standpoint, Fowler believes). Also: A message of bedrock trucking appreciation from a purchasing and receiving staffer out in Spokane, Wash., a result of the Overdrive collaboration with PRX's Radiotopia podcast network on Over the Road. Take a listen:
Podcast: Play in new window | Download
If you haven't as yet, hear Over the Road's episodes via this link or here at Overdrive's website starting with Episode 1. Read further about owner-operator Fowler's and others' solar systems via this link.