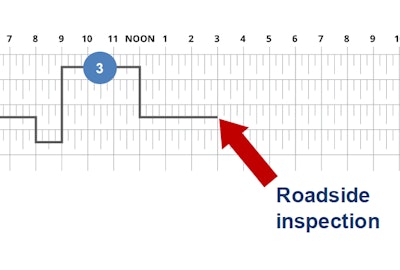 Today's edition of the Overdrive Radio podcast runs through the variety of hours of service issues addressed yesterday in the Federal Motor Carrier Safety Administration's third Q&A relative to the changes put in place as of Sept. 29. One particular question addressed a subject we've taken up before — namely what happens if you need the 14-hour-clock pause value of a berth period to avoid a violation and you're inspected before you can pair that period with another berth period to complete the split.
FMCSA Enforcement Director Joe DeLorenzo noted, and he has also said in the past, that officers are trained to make the assumption that a second split will be completed, yet are assumptions enough to go on? You can always verbally make clear to an inspector your intentions to split, yet a contemporaneous annotation of any off-duty period you intend to begin a split pair could further underline those intentions, in my view. If you're inspected prior to the next qualifying pair, an annotation would give the officer something other than just your word and his own assumptions to go on.
Hear much more about particular situations pertaining the short-haul and adverse conditions exceptions' expansion, the 30-minute break, and the new sleeper splits here:
Download the presentation FMCSA used — including some logbook examples among other detail — via this link.
Also in the podcast:
A window for Overdrive Radio listeners on a story of unexpected connection – it involves the 1999 Peterbilt cabover of owner-operator Mike Landis. Many of you will know Landis from prior coverage and as a founder of the USTA grassroots group. This past October at That's a Big 10-4 on D.C., he told me a more full version of the story of his quite recognizable cabover, also detailed at this link and via the video below.
More hours of service resources from Overdrive via this link.