In the COVID-19 pandemic year of 2020, there were but two states in the entire nation where truck inspections numbers in the aggregate rose from 2019 levels. Every other state saw fall-offs ranging from just a few percentage points to more than a third in some places – nationally, inspections were down overall from more than 3.2 million to under 2.5 million.
The state of Alabama was one of those exceptions. (The other? Rhode Island, by my preliminary accounting.) Alabama's mostly mobile enforcement crew posted a higher number in part as a result the state's investment in an expansion of it's Motor Carrier Safety Division of the Highway Patrol.
In today's episode of Overdrive Radio, Captain Brent McElvaine of Alabama explains further reasons – a continued emphasis on inspection screening via "virtual weigh stations" with weigh-in-motion and/or other technologies (such as tire-anomaly sensors) to better prioritize inspections of trucks and carriers troopers believe probably need it, for instance.
There's more where that came from in this episode, including a bevy of tips for owner-ops looking ahead to the May 4-6 Roadcheck event – in one of Roadcheck's principal areas of emphasis this year, lighting equipment, Alabama ranks very high. Nearly 1 in 4 of its violations written in recent years has been for a light out or other related infraction. Take a listen: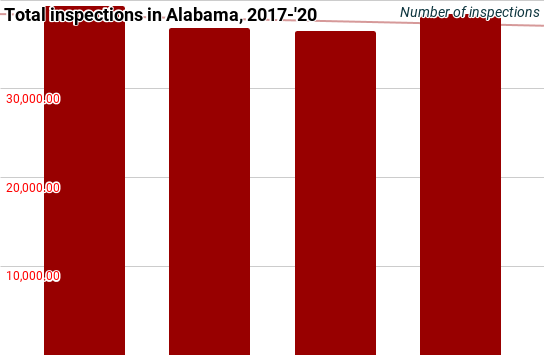 Though the trend is down just a bit, the state of Alabama actually posted an increase in inspections overall conducted in 2020 compared to the year prior. That marks it as an outlier in data from the federal system analyzed by Overdrive and RigDig.