The toughest 15 states for hours of service violations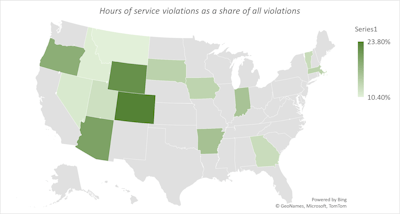 Since the last complete update of this map graphic detailing the states where hours of service enforcement figures as a prominent priority within states' inspection activity, the locus of top states has shifted west on the map. New toughest-two states of Colorado (23.8% of all violations issued in 2019 were hours violations) and Wyoming (22%) replace calendar-year 2017 leaders Arkansas and North Dakota, where violation shares fell precipitously post-ELD mandate enforcement late that year.
North Dakota has fallen out of these top rankings entirely, while Arkansas' percentage rate for hours violations, at 16.1% in the most recent calendar year for which data is fully available, fell by more than a third from its high of nearly 27%. (For comparison, check out the 2017 map at this link to a past series of CSA's Data Trail installments.)
For the new top two states, though, the percentage rate has been steady as she goes in spite of clear evidence of overall declining violations of the hours of service rules in the wake of the ELD mandate. Neither state posted sizable gains or losses from pre-ELD mandate levels of hours of service focus.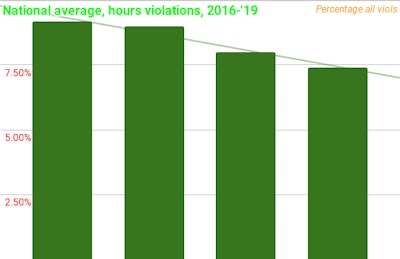 With news today of the hours-of-service-related focus on the planned Roadcheck event – this year set for May 4-6, a month sooner than past traditional month of June – keep in mind these states for especially close hours enforcement. Here's a list of the percentages that correspond to the shaded states on the map above.
Colorado – 23.8%
Wyoming – 22%
Arizona – 19.9%
Oregon – 18.5%
Arkansas – 16.1%
Indiana – 15.9%
Massachusetts – 14.1%
South Dakota – 14.1%
Iowa – 13.8%
Vermont – 12.9%
Georgia – 12.8%
Utah – 12.4%
Nevada – 11.3%
Idaho – 10.8%
Montana – 10.4%
As for the Roadcheck ancillary focus on lights on the equipment side, follow this link for further coverage of maintenance-related violation statistics from reporting last year.