The principal conundrum of advanced driver assist systems like collision mitigation, lane-keeping cruise and more was summed up well by Nussbaum Transportation driver Clark Reed as part of the panel featured in today's edition of Overdrive Radio: "The more we take the driver away from the driving experience ... [the greater the potential] they're going to become lackadaisical."
Put another way, we're talking about, in a word, complacency – the strong temptation to let the equipment take the responsibility for the work of safe operation from the hands of those to whom it truly belongs.
That's the operator, of course, and Reed would go on to say much more than that in the talk with longtime independent owner-operator Henry Albert, a former Overdrive Trucker of the Year, in a panel moderated by TCA chairman and D.M. Bowman chief Jim Ward.
In today's podcast, the discussion is featured in more depth than we've covered at OverdriveOnline.com as yet. It's invaluable for real-world perspective on the space where increasingly sophisticated driver-assist technologies meet the realities of the road.
[Related: Staying in control as driver-assist technology continues to expand]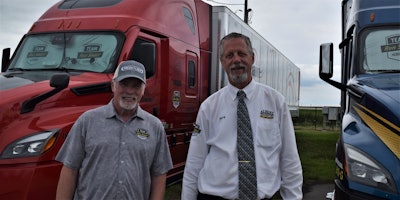 I ran into both Reed and Albert last week at the Walcott Truckers Jamboree, as it just so happens (as evidenced in the picture above), where both showed the next-generation Cascadias they pilot in efforts for the Freightliner Team Run Smart program and their ongoing hauling careers. Both rigs are outfitted with most every bell and whistle you can think of.
Also at the Walcott show was the exact opposite, of course, one example being the 1982 Peterbilt 359 of an owner-operator who's a contemporary example of where the truck owner-operator comes from in American history.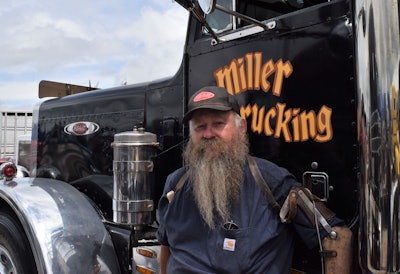 W. Tim Miller has been in the business of trucking and farming for 40 years, mostly these days hauling his own product more than anything else, just as the earliest truck owner-operators of the 20th century. Miller farms around 300 acres of corn and beans a little more than 100 miles northwest of Walcott, Iowa, hauling exclusively with this early 1980s classic he told me plenty about in what follows. Take a listen:
Further views of Miller's rig: