Truck show season is upon us, with the Mid America Trucking show set to commence on Thursday, March 30th.
There will be the pageantry and the pomp, the polish and the shine. Influencers, thought leaders, and micro-celebrities. (Oh my!)
But you know what I look forward to the most? It's the war stories. It's the accounts you hear while you're waiting on a table to open up at a steakhouse, or maybe while tipping back a cool beverage or two. It's the unguarded things people tell you about their lives and work when they've had a few days to step away and decompress.
[Related: An oversize hauler's mobile shower solution | More 'Winter from hell' on I-80 in Wyoming]
Today's edition of the Overdrive Radio podcast features one such conversation. Owner-operator Bill Douglas is an old truck show friend of mine. We met at the Great American Trucking Show in Dallas back around 2016. Back then, Bill was just thinking about becoming a trucker. These days, he's a six-year veteran of the super slab, hauling with a mission, too, to be a mentor to new drivers he's training for Prime.
It was this time last year when we went out to get that steak, and along the way Bill gave me the lowdown on big fleet training -- the good, the bad and the ugly. Take a listen:
Hope to see you at the show.
Also on the podcast: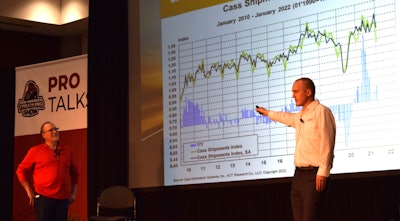 [Related: Join us at MATS: New owner-operator business manual, live benchmarking seminar, more]
Transcript
Todd Dills: Welcome one, welcome all to the Friday, March 24, 2023 edition of the Overdrive Radio podcast. I'm Todd Dills, your host as usual. And we're looking ahead to next week's big beginning for the season of truck shows, the annual Mid-America Trucking Show trade convention at the Louisville Exposition Center in Kentucky kicks off Thursday, March the 30th.
We'll be there. Plan to join Overdrive, and owner-operator business services firm ATBS, Friday, March 31st, for our annual Partners in Business seminar at 1:45 PM local time. That's in room B104 in the South Wing at the convention center, MATS' "Pro Talks" theater.
This Partners in Business session is part of a bevy of business-related programming the show has marshaled for the event this year, covering everything from health improvement over the road, to double-brokering and more. Catch a link to the full schedule in the show notes or in the post that houses today's podcast.
ATBS vice president Mike Hosted will be joined on stage in Overdrive's session by a longtime contributor in Gary Buchs. Buchs is retired from the road as of late 2019, but his long experience as an owner-operator informs ongoing work as a mentor and business coach to a big group of owner-operators he works with routinely at efforts to sharpen the saw, as it were, of their business processes.
A lot of us today are, quote, "making too many assumptions," end quote, about market conditions in particular, Buchs said. We're responding emotionally to the gloom and doom headlines of the day, and possibly missing areas in which, and operational adjustments with which, some owner-operator peers are having success.
ATBS vice president Mike Hosted will come armed with trend data to help illustrate some of those areas. On the bottom line among ATBS clients, owner-operator income did on average take a dive in 2022, yet averages are what they are. Not everyone took the 10% haircut with exploding costs and falling rates the average did last year.
Look no farther than Overdrive's ongoing 2023 Trucker of the Year program for monthly examples of owner-operators who've set themselves up for success, even through exceedingly difficult business conditions.
If that describes you or another owner you know, by all means get over to the nomination page and get in the running for the Trucker of the Year award. Stay tuned for the reveal of this month's Trucker of the Month's semifinalist next week.
Gary Buchs relayed a conversation he had with an owner-operator, relatively new to the business too, just this week. "Nobody teaches us how to do this," that owner said, referencing the value he took from his work with Buchs, likewise drawing on the lessons learned from other experienced owner-operators, some learned the hard way himself.
"On one hand," Gary noted, "the owner's right." Yet on the other, there's plenty in the way of self-help resources for those new to the business or looking to, again, sharpen that saw for better profits. Overdrive's annually-updated Partners in Business manual, co-produced with the input of ATBS, is one such resource, certainly.
And next week with the Friday seminar we'll be introducing the 2023 edition of the owner-operator business manual. Now a whopping 120 plus pages worth of information, running all the way from the basics of business planning before start-up, to going independent, growing a small fleet, and prepping adequately for a comfortable retirement.
The 2023 edition of the manual will be available to all readers next week. New this year to it are a bevy of updates, including a primer on avoiding and combating the huge rise in double-brokering of the past few years. There's further resources on saving taxes and gaining business management dividends via the S Corp tax filing structure for LLCs.
Updates on lending markets, given the rise in borrowing costs for new and used equipment purchases of the last year. New strategies for how to approach fuel surcharges as an independent, and maximize efficiency, whatever your operation, given 2022's, historic fuel price inflation.
There's new ways to protect your business and personal data from wholesale identity theft running rampant, updates on planning and saving for retirement, and of course, much more. So stay tuned to overdriveonline.com/pib for the new Partners in Business manual next week. And we hope to see you in Louisville.
For the rest of this week's podcast, we're going to be handing off to trucker-songwriter, and longtime Overdrive contributing writer Long Haul Paul Marhoefer, dropping into his long interview with Prime leased operator Bill Douglas for tales from the training truck, as it were.
That's right, Douglas is among those at Prime who's recently taken to the mentoring and training task after an experience he won't soon forget with his own trainer. After the break --
Paul Marhoefer: The good, the bad, and the ugly.
Todd Dills: ... of training over the road.
Speaker 2: Every diesel needs to defend against clogged injectors, low lubricity, and slipping fuel economy. The best defense is the best defender, Howes Diesel Defender with Advanced IDX4 detergent. Get a deeper clean, maximum lubricity, and boosted fuel economy, guaranteed. Howes Diesel Defender, get optimal performance. Howes. For every diesel.
Todd Dills: Find more about Diesel Defender at H-O-W-E-S, howesproducts.com. If you'll be at the Mid-America Trucking Show, stop in and visit company reps at their booth too. Number 14172 in the North Wing.
If you can't be there, and are a longtime user of Howes Anti-Gel or other fuel treatments like Defender, send me an email at mailto:tdills@randallreilly.com, or leave a message on our podcast line with your experience with Howes products.
Include your name and shipping information too, and I'll send you a prize pack featuring a bottle of Defender, as well as the company's alcohol-free Howes Multi-Purpose Penetrating Oil. The number to call 615-852-8530. Or again, email tdills@randallreilly.com. Okay, handing off now to Paul Marhoefer. Here we go.
Paul Marhoefer: Truck show season is upon us with the Mid-America Trucking Show set to commence on Thursday, March 30th. There will be the pageantry, the pomp, the polish and the shine. Influencers, thought leaders, and micro-celebrities, oh my.
But you know what I look forward to the most? It's the war stories. It's the accounts you hear when you're waiting on a table to open up at a steakhouse, or maybe while tipping back a cool beverage or two. It's the unguarded things people tell you about their lives and work when they've had a few days to step away and decompress.
Today's conversation is no exception. Bill Douglas is an old truck show friend of mine. We met at GATS back around 2016. Back then, Bill was just thinking about becoming a trucker. These days he's a six-year veteran of the Super Slab training fresh new drivers for Prime.
It was last year already when we went out to get that steak, and Bill gave me the lowdown on big fleet training. The good, the bad, and the ugly.
Bill Douglas: I am a driver at Prime Inc. I haul a reefer unit OTR. Just back and forth across the country.
Paul Marhoefer: And now, are you a company driver? Or what do you do over there?
Bill Douglas: I am a lease operator. I pay a weekly fee, and I own my truck until they say I don't. I get a new truck every three years.
Paul Marhoefer: Do you stay under warranty all the time that way?
Bill Douglas: Warranty all the time. That's why the lease is up at the end of three years, it's right before warranty is run out. So you get to re-lease a new truck.
Paul Marhoefer: Kind of keeps you hopping, I would imagine. I mean, you probably can't just take two weeks off just to find yourself, I wouldn't imagine.
Bill Douglas: As long as you have the truck payment, the weekly truck payment, you can take off as much time as you want. They don't care. I can pick and choose where I want to go, or just have Prime point me in the wind and send me wherever. I call it roll of the dice, you know. Let's just roll the dice and see where we go today.
Paul Marhoefer: Now Bill, you mentioned something to me that I thought was quite interesting. You enjoy mentoring younger drivers, and helping them learn. You had a mentor that really meant a lot to you. Can you tell me about who this was, and how that experience went?
Bill Douglas: Her name is Julie. Julie has been driving for over 30 years. She's been with Prime for over 20 years. I met her through my wife, Ada Belle, and she brought me on, took me under her wing, and became my mentor. I call her my sister, my trucking sister. She calls me brother.
And she says that I was the best student she's ever had in training. She actually came out of retirement to train me, and it was the best thing I ever had. So now I take the knowledge that she's instilled in me, and give it up to everybody else. They want to learn from me, or they don't want to learn. I love training. I really do.
I have the patience to do it. Some guys, it's hard to get them to focus, hard to get them to put the phone down, these younger drivers, and learn. "Oh, this guy on YouTube said this." Well, you're not on YouTube, you're in my truck. You're going to do it my way. And it's the right way. Once you get your own truck, you can do what you want.
Paul Marhoefer: Now, so when you get a fresh trainee, I mean, is there a profile? I mean, how much experience do some of these drivers have?
Bill Douglas: Well, Prime has two phases in their training program. They have the PSD phase, which is Prime Student Driver. Those are non-CDL holders, they just have their permit. And then they have what they call a TNT phase. It's trainer and trainee.
That's what I do. I get them where they've only got a few days of road drive and training pad. Just getting the CDL, passing the test. So when I get them, I have to actually teach them how to drive a truck, because all they know is how to pass that test, and it's completely different than driving the truck.
Paul Marhoefer: So I mean, you're training these guys from the ground up.
Bill Douglas: Yes.
Paul Marhoefer: We were talking a while here at the Mid-America Trucking Show, and you said that if a trainee has a wreck, that's your financial responsibility. Now how does that work?
Bill Douglas: Well, the way Prime has it set up is, you take them onto your truck and you're fully responsible for that trainee. You're supposed to be on top of that trainee through his whole training. So if he has an accident, that falls on you. You pay that deductible, and they basically get slapped on the hand.
They get a additional 10,000 miles. They start out with 30,000. Once they get 30,000, you're eligible to upgrade to be on your own. So if they get a critical event, like a hard break, shifting the load, going into a turn too fast and get a stability control turn, it all adds 10,000 miles.
So to keep someone that has a hard time learning, and gets those critical events, and hits those trucks, it really takes a mental toll on you. And you have to be patient, or just be able to look at them and say, "Hey, I don't think we're working out. Maybe it might be best for find another trainer."
Prime has places in line that you can go to, to maybe find out what works and what doesn't work. But each student has his own learning ability. You just have to basically figure out how they learn and go from there.
Paul Marhoefer: How many trainees have you had so far?
Bill Douglas: Right now I'm on my 13th one.
Paul Marhoefer: Wow. And how long have you driven a truck total?
Bill Douglas: Six years.
Paul Marhoefer: Okay, so you're no rookie?
Bill Douglas: Oh, as far as most people understand, under 10 years I'm still a rookie. But when I started driving, I took to it. My grandfather was a truck driver. And about the first year or two, I knew this is what I was meant to do. So I started training after two years.
Julie gave me her blessing, and said, "You're better than most drivers that's been driving for six years." And now I've been out here six years, and I've got guys, other trainers, that call me and "Hey, I've got this problem with this trainee, can you help me out?" And I mentor other trainers now. So I think it's came full circle, and I've done it in a short time.
Paul Marhoefer: So you're actually mentoring the trainers themselves?
Bill Douglas: Yes. The new guys that's only got maybe a couple of years, two years under their belt. They decided they wanted to train, and then they get ahold of this trainee that they have no clue how to train them.
I can walk them through steps on how to assess their problems, and how to work it out. Backing up, or getting into a dock, things like that. Putting the phone down mainly.
Paul Marhoefer: So is that the main problem you see with young trainees is them handling the phone?
Bill Douglas: The young trainees, yes. It's getting them off the phone. When you're supposed to be sleeping for 10 hours, your 10-hour break, they're laying up there in the bunk on their phone for five, six hours. They get two or three hours of sleep and they want to try to drive?
No, not my truck. Put your phone down, it's time to go to sleep. This is training, this is real world. You can hurt somebody. You can kill somebody if you don't have enough sleep to stay awake. You're driving a 80,000 pound truck, a 40 ton truck. And it's one of those things. Just put your phone down, pay attention. But that's what I see about the young generation.
Paul Marhoefer: What is your phone protocol in your truck? What are the rules about? Does his phone have to be mounted at all times?
Bill Douglas: Depending on the trainee. If I can't get one to put it down, then it's in the bunk at all times unless he's off duty. The ones that I see that that can handle it, it's mounted up front, but they can't be on it.
They can see phone calls, they can see messages, but if they want to handle a phone call, they've got to stop the truck. Then they can handle their phone call. But under training, they're not able to answer the phone call when they're driving.
Paul Marhoefer: No incoming calls while you're driving as a trainee?
Bill Douglas: No, not in my truck. That's my rule.
Paul Marhoefer: Have you ever had to evict a driver from your truck mid trip?
Bill Douglas: I actually have not. I've had trainees jump on me. One trainee I had a few months ago, I picked him up in Texas, where he lived, down around San Antonio. We drove out to California, took about two days to get over there, and we were due to have an appointment to deliver our load the next morning.
And he gets on the phone, standing around outside this truck. He comes back to the truck and grabs his stuff and says, "I can't do this anymore," and he leaves.
Paul Marhoefer: Wow.
Bill Douglas: He just jumped off in California, and I picked him up in Texas.
Paul Marhoefer: Were there any warning signs?
Bill Douglas: There was no warning signs at all. He just abandoned. I've heard other drivers, one driver told me that his trainee, while he was asleep, actually went into his wallet and got his credit card, got a bus ticket and a Lyft, and went back home with the trainer's credit card.
Paul Marhoefer: There's been a lot of focus on training and mentoring. Even the current administration is trying to put more of an emphasis on mentoring to get more drivers in the workforce.
And what I find interesting is, this is something you actually have a passion for, something you enjoy doing. And even though sometimes your trainees get in accidents. These are mostly small accidents? Or are any of them ever serious?
Bill Douglas: Most of them are just small accidents. I mean, anytime... We have to put a trainee in our truck without even knowing the person. Basically just a phone interview, "What do you like? What you don't like?" And just go from there. So you don't even know this person, and you're inviting them into your house [inaudible 00:19:02].
Paul Marhoefer: Yeah, one of my questions was, has training made you a better driver and how?
Bill Douglas: Training has made me a better driver. Basically, trying to teach them in a way makes you focus more on what you're doing. Am I stopping correctly? Am I showing him how to drive the right way? Makes you look at your habits that you've gained when nobody's watching over your shoulder.
So that's one way. The other way is, it's a lot different to sit behind the wheel and drive the truck, and to get outside and drive the truck from the outside, telling him which way to turn the wheel to back in. It's a lot different. Training is a lot different. Makes you think outside the box instead of inside.
Paul Marhoefer: Yeah, because after a while a lot of what I do is just sort of intuition and muscle memory, and I don't really... So if you have to verbalize the actual performative act of driving a truck, I guess you would probably internalize it differently than just kind of... Second nature alone isn't enough, I guess.
Bill Douglas: I still have second nature. Showing him how to do a maneuver, without even thinking about it, I just do it. So you have to stop and think about, and tell them what you're doing before you do it.
It took me a while to practice it, but now I can do it secondhand. I mean, I can turn the trainer on and off at will now. I've been doing it for a little while. But yeah, I still, even with when I'm not training, when he's back there sleeping, I'm just driving.
I don't think about what I'm doing. Just instinct takes over. But as soon as they get behind the wheel, you have to flip that trainer hat around and now let's see how we can make them a better driver.
Paul Marhoefer: Now, what was the most difficult thing you ever went through as a trainer with a trainee?
Bill Douglas: The most difficult thing is them trying to take advantage of you. As far as, I do more things than what other trainers do. I'll buy them something to drink or something to eat. We don't have to, I just do it because that's what my mentor did for me. So I just do it for them.
But when I was asleep once, my trainee went into my wallet, got my card and went inside and got something to eat. Well, when I woke up the next morning I saw the charge and I was like, "Hey, what's this charge on my card?" He was like, "Well, you've been buying me food."
Well that didn't mean you take advantage and just take my card whenever you wanted to. It's always good thing to ask. That's the most difficult thing is them trying to take advantage of you like that.
Paul Marhoefer: Yeah, I mean it seems like a very fraught situation. You've got two total strangers in the truck. But they do give you, I think you mentioned earlier, that you're at least allowed to interview them, and then at that point you go with your gut instinct.
Is that sort of how it works? Or do you even have the agency to say, "Yeah, I don't think I want to train this person based on my interview."
Bill Douglas: No, we have the opportunity to say, "I don't think this one's going to work. Let's try again. Let's move to the next." And once they're on your truck, you still have that thing. If it's not working out, you still have the option to say, "Hey, I don't think this is going to work out with him." And just move on from there.
Go up management and see where it falls. If they need another trainer, or if it's time for them to go home. I personally have never had to cut one loose. I try to train them to the best of my ability. I'm very patient, very understanding.
Because I, myself, when I started training, I didn't think I was going to be able to back the truck. It took everything Julie had to train me to learn how to back this truck. I just couldn't place it in my mind. I've never backed a trailer before, whether it's a boat trailer or a horse trailer. I've never done backing of anything other than just a four-wheel-drive car.
Once I got that down, once that light bulb clicked, and it took a long time for me to learn that. And now I can teach it. It's came full circle where it's just second nature now. But I know when they're struggling, I tell them my story to help them just relax and listen to me and we'll get it done.
Paul Marhoefer: So it sounds like you just had this great experience with your first trainer, Julie, and she sort of set the standard that you're trying to uphold as a mentor and a trainer?
Bill Douglas: Exactly. She was an upstanding driver. She's been driving, like I said, for over 30 years. And my grandfather was a driver. So I just got this high standard that I'm not going to give up on someone until they give up on their self. They're going to give up before I do.
Paul Marhoefer: That's really interesting, because I've talked to trainers who, seemed like almost at the drop of a hat, will get rid of a trainee. Have you ever met trainers like that?
Bill Douglas: Yes. I've met trainers like that, that's "Oh, he used my microwave, so I had to kick him off the truck." Well, my saying is in Spanish is [foreign language 00:25:17]. My house is your house.
And I'm bringing you on, you can have refrigerator space, you can have microwave privileges, whatever you want. As long as you're on the truck and you're doing the job, it's your house. Like we're renting it. We're roommates.
Paul Marhoefer: Now, do you ever stay in contact with any of your former trainees?
Bill Douglas: I only have one that I stay in contact. The other ones, I have no idea where they went once they got off my truck.
Paul Marhoefer: Do you ever bump into any of your former trainees at the yard or at docks?
Bill Douglas: No, I've never seen any of them. As far as I know, they're either not working for Prime or they... We've got so many trucks on the road, it's hard to see everybody.
Paul Marhoefer: I've sort of had that, I guess you might say, dream of maybe mentoring someone. And just to be able to take someone that's never actually driven before and train them from the ground up.
But I think I would have to tighten up on some of my habits a little bit. Who knows, maybe mentoring will become more widespread among the general driver population, because it seems to be... Do you find fulfillment in it?
Bill Douglas: I find a good fulfillment in it. My motto is, "When we park at night, is the load safe? Is the truck safe? Are you safe? Is everybody else on the road safe because we didn't have an accident or hurt anybody? Then it was a good day."
Tomorrow is another day. Whatever happens, somebody telling you you're number one, and giving you the bird, or whatever, that doesn't matter. What matters is, everything is safe at the end of the day.
Paul Marhoefer: Yeah, there's nothing like an incomplete peace sign that can ruin your actual peace. But you do have to be be a bit thick-skinned about these things, don't you?
Bill Douglas: Yes, when I first started driving, I'll admit I was not ready to be a driver. I wasn't. I had to be broken down and built up to be a driver. Because you can't hold your heart on your sleeve and be a driver out here, because they're going to stab it and run away with it.
Most, I want to say at least half of negativity out here in trucking industry nowadays, that I'd like to at least make one person smile a day is my goal, and that's what we do out here. Just smiles with miles is what I try to say.
I really enjoy training. I don't know, I've never really actually spoken to a trainee once they got off my truck, for whatever reason. They seem to just fade into the background. I'm more one to stand out in the crowd and go to the truck shows and have fun. But yeah, overall I've really enjoy training, and I can't say that enough. I really enjoy it.
Todd Dills: Here's a big thanks to Bill Douglas and our own Paul Marhoefer for the talk, and we're hopeful for much more in the next week. If you're going to be at MATS this coming week, get in touch. We'd love to hear your story and meet in person.
You can find us via the world-famous OverdriveOnline.com. Navigate to be Overdrive Radio section. Subscribe and leave us a rating or a review wherever else you might be getting your podcast. We're on Spotify, of course, and Stitcher, Apple and Google Podcasts. TuneIn and SoundCloud, and many more.
And for Marhoefer, keep your ears open for his brand new Legends of the Lost Highway record in the coming weeks here on the podcast. You can pre-order the record via his website. That's longhaulpaulmusic.com.