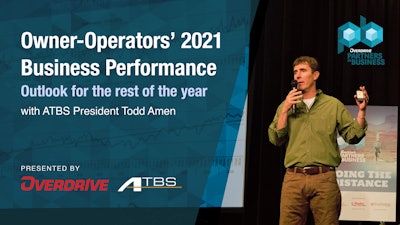 On October 21, 2021, at 5 p.m. Eastern time, we'll be live for a presentation from and discussions with ATBS President Todd Amen to deliver the business services firm's charting of owner-operator revenue, costs and bedrock income over the course of the year thus far. The program, part of Overdrive's Partners in Business series coproduced with ATBS, will offer plenty in the way of actionable intelligence and data against which to benchmark your own operation and assess your performance.
The live program will stream from Overdrive's YouTube channel and right here on OverdriveOnline.com.
Readers can fill out the information below to sign up for emailed reminders leading up to the event with detailed information about where to participate. A question and answer session will wrap up the program at the end.