One of the best things about being on the road is learning new things and meeting new people. I'll be the first to admit that I'm not always open to learning these new things, but when I take a minute to reflect, I'm never disappointed that I did.
Last week I learned that I don't care much for Miami. To be fair, we never got close to the tony areas, where you can actually see the ground instead of the trash people have thrown on it, but the area we saw was enough for me to realize I'm not entirely comfortable there. I have a hard time liking any place where there are approximately 400 people per square inch. I'm not a fan of crowds — the chances of zombie infiltration are astronomical when you plant yourself amongst a gabillion people and filthy surroundings.
We didn't really have time to explore, and I never saw anywhere to get a Cuban coffee, which is what I wanted to get in Miami more than anything. We got in and out, and headed down to Homestead to pick up our next load.
Once again I was amazed at the lack of available safe parking around such a large city. It seems like the bigger the city, the less parking there is. In the famous words of Pete from Oh Brother Where Art Thou, "that don't make no sense." Logic dictates that larger cities require more freight, which would bring more trucks that need more parking. Apparently, I'm just strange and think about things like that.
We stopped at the Pilot at Dade's Corner to shower. After weaving through the broken glass and rotting animal carcasses in the parking lot, we determined we'd rather be dirty than shower there. We pulled out and took our chances on down the road, which turned out to be a good thing.
George dropped the trailer at the shipper to be loaded and was told the best cheesesteak sandwich in Florida was close, at a Mobil station in Krome on state road 997. I had a really hard time believing there was good food at a Mobil station, but we were starving, dirty and ready for some rest, so we headed that way.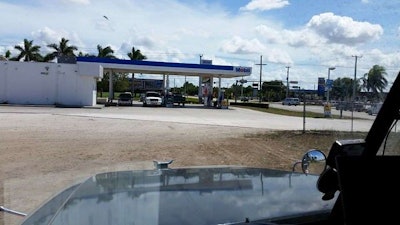 I was not impressed with the outside and suggested we eat cold sandwiches in the truck. George was ready for a hot meal, so he talked me into it. "Come on, babe, you know some of the best food we've ever had has come from dives. We can at least try it."
"Why not? It's almost summertime, a good case of dysentery will help me along with my svelte beach body."
I got the eye roll, and we stepped into the Mobil station – and some of the most delicious smells I've encountered in a long time.
All I can say is, I was so terribly wrong for judging a book by its cover. I ordered a mushroom-swiss burger, and the lady behind the counter grabbed a handful of real hamburger meat as big as my face and made me a delicious, fresh burger – right there in front of me. George got the cheesesteak, and he proclaimed it to be one of the best he's ever had. It was so good, in fact, he didn't even save me a bite of it. Harumph.
This little place also had showers that were clean though somewhat bereft of places to sit your gear. For ten bucks you get one towel, a tiny soap and shampoo and all the hot water you can use. If you don't mind sitting your shower bag in the sink or on the floor, it's a decent deal.
Live and learn, and have great cheesesteak along the way. I love the road.