It's no secret I believe. I even have a t-shirt with a picture of Sasquatch holding a baby alien that says, "I Believe Everything." It's undoubtedly my favorite shirt ever.
When I found out we were going to be close enough to the Extraterrestrial Highway (Nevada State Route 375) to run it without adding too many miles, I was ecstatic. We were finally going to see the Little AleInn, which has been a destination for me since the first time I heard about it.
The Little AleInn is located in Rachel, Nev., right off the ET highway, which is appropriate because it's full of aliens. There have been numerous references to it on travel shows, and the parking lot was featured in the movie Paul, but the owners don't like to promote that, because they were paid absolutely zero for the movie due to some shifty contract shenanigans.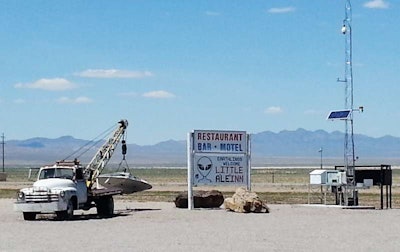 The place is tiny and looks kind of like a trailer. There's a spaceship hanging from a tow truck in the front yard, and little aliens peer out from every window. The landscape surrounding it is definitely otherworldly, as most of the vast, unpopulated areas of Nevada tend to be. There is literally nothing substantial for 100 miles either way, so if you don't find something on the menu you like to eat, well, you're going to be hungry for a while.
When we arrived, we were the only human visitors in sight. Miss Pat, the owner, greeted us at the door and offered a table. I thanked her, but I couldn't sit down. There were aliens everywhere. I'm not sure who the artist was, but they did a great job, because some of these little monsters looked completely alive. I wandered around, touching things, for about 10 minutes.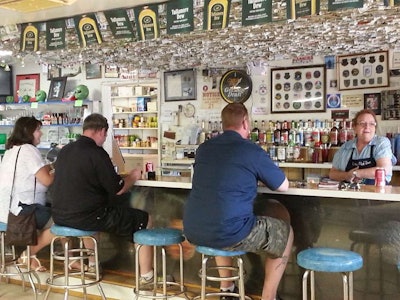 We chose to sit at the bar, so we could talk to Miss Pat while we were eating. I told her this experience was on my bucket list, and I thanked her for her hospitality. She's possibly one of the nicest ladies I've ever met.
She gave us details while we dined on cheeseburgers and fries.
She and her first husband bought the place 25 years ago. She referred to it as a "greasier spoon" in the previous condition. Her husband built on, they added an RV park and four rooms, and the Little AleInn was born. Her husband passed away, and her daughter, Connie, lives on-site and helps her run it now.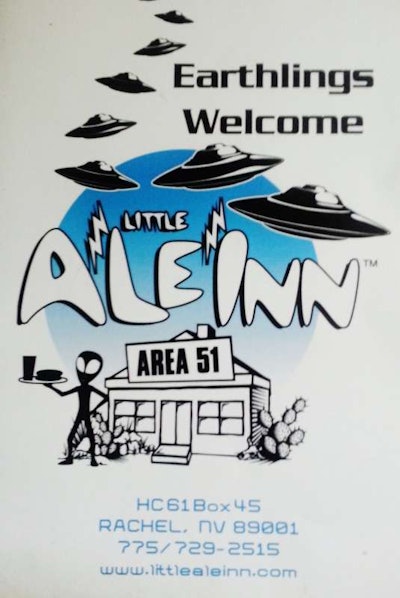 Rachel, Nev., has a population of somewhere around 58 people, give or take a couple. Obviously, the business relies upon tourists to survive, and while the merchandise is a little overpriced, the food is reasonable and very good. The menu includes breakfast, and has a variety of sandwiches and salads as well. Miss Pat told us she serves anywhere from two to fifty customers a day. She mentioned a Swedish motorcycle group had been through the day before, and she will book tours and groups if they call ahead. This made me laugh, because she answered the phone twice with "Little AleInn, how can I help you?" and was hung up on both times while we were sitting there.
The RV park and little trailer/rooms are really clean, well maintained and very reasonably priced. We will be staying overnight next time we're through, because that's apparently when the action heats up in the sky. There is ample parking for trucks, and they welcome truckers. You may park overnight if you need a place to sleep, but go in and let them know, so they don't think it's an alien truck and have you towed by the intergalactic police.
When I asked Pat if she ever saw anything weird, she gave me a very serious look and said, "Oh boy. You bet there's weird stuff in the sky out here. I don't know if it's ours [referring to the Groom Lake military installation 26 miles from the Ale'Inn] or something else, but I've seen them."