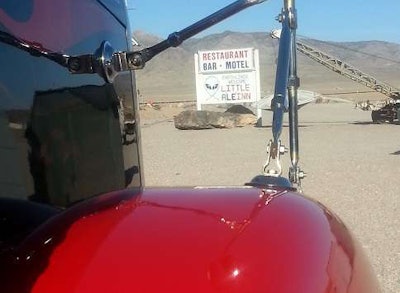 One of my favorite things about going out West is the opportunity to stop at Little Ale'Inn in Rachel, Nevada. The owner, Miss Pat, has become a fast friend and someone we don't mind going 100 miles out of the way to see when we have the chance.
It also helps that she has the coolest diner/bar/trailer park/motel on this planet. If you've never been, take a little detour when you're traveling between Reno and Vegas on 95, right past Tonapah (home of the Clown Motel) on to 375 – which is also known as "The Extraterrestrial Highway." It adds about 85 miles to the trip, but not only is the scenery incredible, you've got good food, a place to park and cold beer waiting in Rachel.
I'm always primed and ready to see something weird when we travel 375. George is usually too busy dodging the free-roaming cattle to pay attention to much else. It's vast and open and there's not much of anything but a bunch of cows who like to stand in the road. I can totally see why the aliens would land there. I can also see how cows get turned inside out by the spaceships — we almost turned a couple inside out with our Freightliner. Get out of the road, cows!
Unfortunately, the weirdest thing on the highway is usually me. The most remarkable sight I've seen (in the daylight) was a herd of white rams perched on a cliff – and while they were extraordinary, they weren't quite extraterrestrial.
This was the first time I actually got to spend the night in Rachel. We passed the evening with a group of German guys we met in the restaurant, and ended up sitting around in the campground exchanging stories with the group, while they struggled with English and drank heartily out of red, white, and blue Budweiser cans. They were fascinated with The Precious, and took tons of pictures of themselves in, on and around her to post to their Facebook pages and show their friends at home the beefy ass trucks crazy Americans drive.
After we said good night and parted ways, George and I took a walk down the highway. There aren't any street lights in Rachel — hell, there's hardly any people to speak of — so there's absolutely no light pollution at all. The night sky is incredible and untouched. The entire Milky Way is visible, and it seems like there are more stars than you could ever imagine out there.
Walking down the Extraterrestrial Highway at two in the morning, I realized, once again, that sometimes trucking is the best job ever. What other profession can you get paid to see things like an unobstructed view of the Milky Way? And seriously, unless I had been abducted and taken there by my ET friends, there's no way in the world I would have ever had the opportunity to stroll the highway named after them unless we were doing what we're doing now.
It's a hard life, and sometimes a thankless job, but I wouldn't trade it for the world.
Catch a few views of the Little Ale'Inn from one of the first of Wendy and George's visits there last year via the gallery below. Read more about the place via this link.