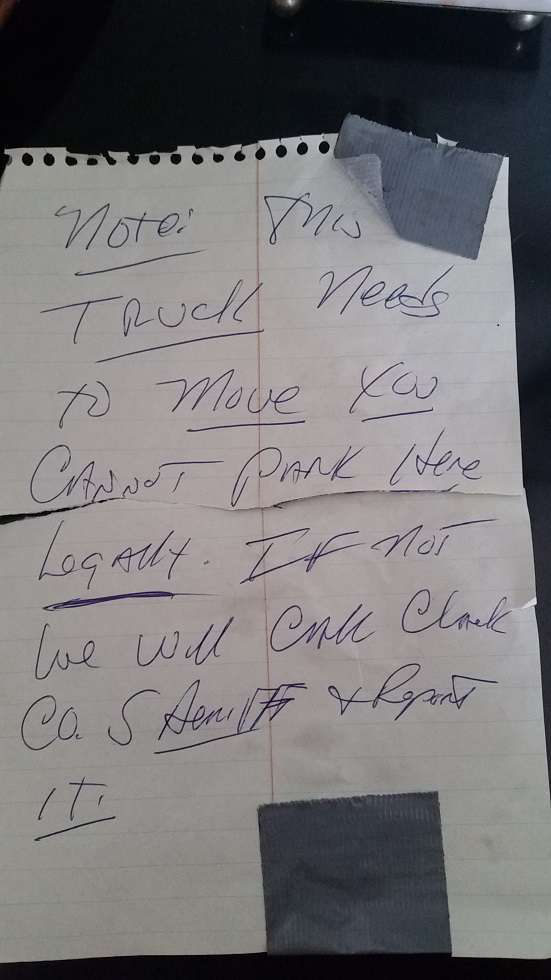 Nothing like finding a love letter taped with duct tape to your custom paint job. Did I mention duct tape? You know, the stuff that degrades into gray goo when it sits on black paint in the heat of the sun? Yeah. That duct tape.
Unfortunately, when we're home we can't park the truck at our place, even though we have plenty of room. Our property shares a driveway with the neighbor, who definitely does not hate truckers or eat rat poison for fun, but feels the need to call the law on George when he attempts to bring the truck down the lane. We have legal rights to use the lane, but who the hell wants to meet with the law every time they go home to park for a few days?
To avoid further consternation with people we have to live close to, George made arrangements with the local drug store to park on their private property during home time. Not only did he speak with the manager of the store, who is extra cool (shout-out to Steve at Drug Mart), but he called the Clark County Sheriff's Office and let them know he had permission. They were also extra cool, and made the remark that the deputies who patrol the area had seen the truck and thought it was beautiful. They even went as far as to say they'd keep an eye on it when they patrolled, but apparently they weren't present when the angry duct tape jerk posted their appreciation for it. With duct tape. On the custom paint job. Have I mentioned that?
So before anyone starts with the "you're not entitled to park anywhere, ever, and if you planned your home time better you wouldn't have these problems" remarks, zip it. We planned, we got permission and we took it a step further than that with calling the law and letting them know our arrangements. You really can't do much more than that.
I'm not going to go into detail about the four-alarm fire that raced through my veins when I saw the duct tape. Suffice it to say, while George was carefully removing the note and taking it all in stride (like he always does), I was flopping around on the pavement, having a Grand Mal seizure.
"Baby, calm down. It's not going to rip the flames off. It's coming off."
"I'm going to destroy every human being with duct tape in their possession."
"Well start with me, because I have about three rolls of it in the side box."
"You're supposed to be mad. Why don't you ever get mad?"
"I think you do enough of that for the both of us."
This is probably a true statement, although not what I wanted to hear at the moment. I did eventually calm down enough to write a response, while George called the sheriff's office to let them know what happened, and make sure everything was still OK with our parking arrangements. I had to revise it twice, as the first note was two pages long and contained a whole lot of references to steel-toed boots and planting a foot in someone's ass, after ripping every hair on their body off with duct tape. Our son, who is used to my fits, carefully suggested I edit and change the original note.
"Uh, Mom, do you really think this should be written with such vitriol?"
After pausing to be completely proud of my son using a $10 word, I decided he was right, and edited the note down to one page, without the use of expletives.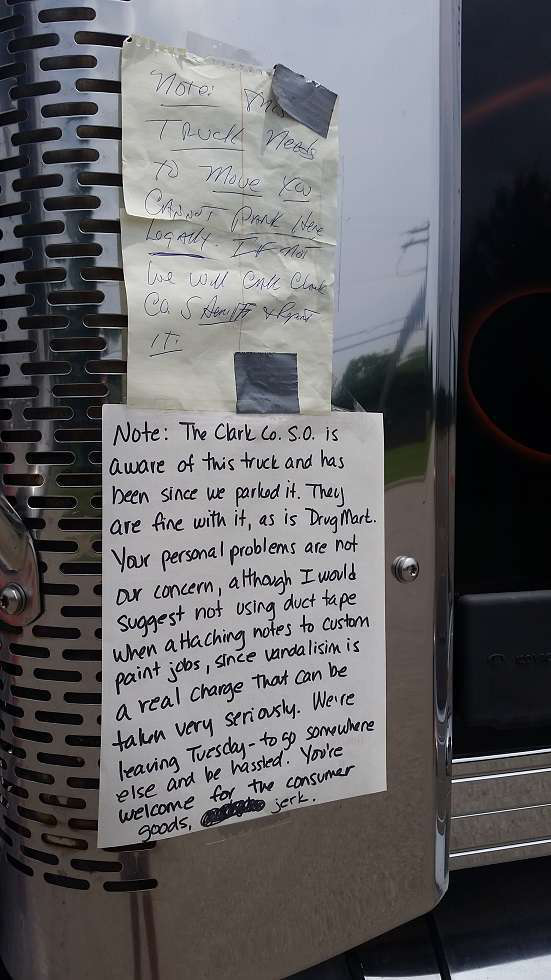 I originally used the word a-hole instead of jerk, but scribbled the original out and left the scribble because … vitriol. Also, I knew little kids might see it and the last thing I want little kids to associate trucks with is the word "asshole."
We didn't hear back from the note writer, which is a good thing because I don't know if I would have been able to keep myself from duct taping cat poop to their forehead.
Sometimes, trucking is hard.