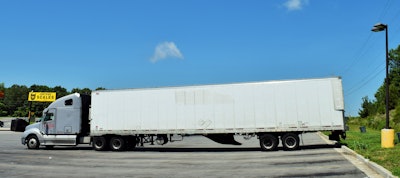 Some owner-operators say they appreciate the ability to pay for a reserved parking space, particularly when it's in a place where they can go on-duty quickly on a tight delivery window.
But most of those surveyed about such systems dislike them. W.C. Transport owner-operator Chuck Bishop of Sanger, Texas, is among them.
"I stay loaded at 200,000 pounds," Bishop says, often resulting in 124-foot combinations. He hauls for the military almost exclusively. "You have to pick closely your places to park," given curfews on such loads.
The oversize aspect of his niche also complicates parking. Last year, west of Nashville, Tenn., he arrived late at a truck stop, and the manager "came out and ran me out of the lot if I wasn't buying fuel," he says, simply because "I was too big."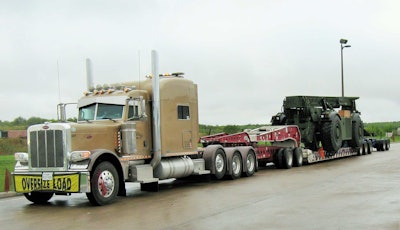 But it's not that situation that eats at him the most. One night in September, he pulled into a closed scale facility on I-30. Officers later told him to leave, so he went to a Petro on I-40 where he had parked on another run – only now the only open spaces were part of TA Petro's "Reserve-It" pay-to-park system. Bishop had to move barriers in order to fit his rig. "They charged me $30 for two spots," he says.
TA Petro is the only one of the big three truck stop chains (including Love's and Pilot Flying J) with such a system in place networkwide. "All but 12 of our 256 locations participate in Reserve-It," spokesman Tom Liutkus says. The price ranges from $12 to $15; the current average is $12.86.
Reserve-only spaces account for 8 percent of the network's total parking inventory, or 3,750 spaces. Not all spaces are used every night, but if they were, $17.6 million annually would flow into company coffers, based on the average price.
In a recent American Transportation Research Institute survey, 48 percent of drivers reported no willingness to pay for space. At the average rate charged for TA Petro spaces, only 12 percent of respondents reported any willingness to pay.
Says Bishop, "It's sad we're having to go to these steps, as everybody's getting so damn greedy, gouging the hell out of us."
It "seems pretty clear to me that there are people who are using those spaces because they're desperate" and have been essentially forced to do so, says Scott Grenerth, director of regulatory affairs for the Owner-Operator Independent Drivers Association.
At once, "in some cases, it might be that the parking place puts them in an economically advantageous position," Grenerth says. "But we've got to make sure there's parking available to people. An owner-operator can write off [a paid space] for tax purposes, or you might be able to say, 'I spent x amount for a parking space – but I knew I would get a free shower.' But when you are a company driver or are leased and only get fuel discounts from certain providers, you might be forced to pay for space, and there may be no payback."
Pilot Flying J may be next with a systemwide pay-to-park system – screenshots from operators' mobile phones were flying around the Web in October showing information about a MyPilot app software update conducted on Oct. 12 that featured a new parking reservation system at select locations.
Drivers reported seeing spaces blocked off for reservations at the Flying J location in Frystown, Pa., off I-78, and at a newer Pilot facility in Eastern Illinois on I-70. Staff at the Frystown location confirmed spaces were available there for reservation for $11 apiece.
Pilot Flying J confirmed that the company is testing a paid-reservations system at 10 locations around the country, with plans to expand that in an additional 13 locations in relatively short order.