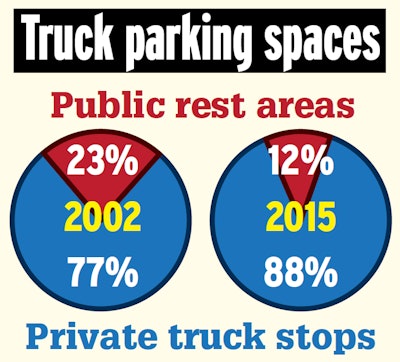 In 2002, when the Federal Highway Administration last studied parking inventory in depth, private truck stops and public rest areas accounted for 77 percent and 23 percent of total capacity, respectively. Today, per the Jason's Law study, the distribution of the 308,920 total truck parking spaces nationwide shows 36,222, or only 12 percent, at rest areas and the 88 percent balance at private truck stops.
Actual use shows more interest in rest areas, according to an American Transportation Research Institute survey. Out of every 10 stops, respondents had an average split of 5.6 stops at truck stops, 4.4 at rest areas. High demand for parking at rest areas makes sense, considering the relatively new 30-minute break requirement in the hours of service regulations.
Yet asked in the following poll by Overdrive whether parking difficulties were more pronounced at rest areas or truck stops, the vast majority of readers concluded simply it was "bad all over."
Rest areas v. truck stops: In which type of facility is parking most difficult for you?
Next in this series: Truck parking, state by state