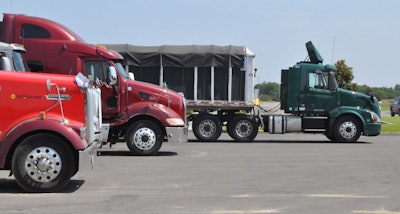 A bevy of readers responded to news of the debate around the Federal Highway Administration's request for public input on whether the rules governing states' commercial activities at rest areas ought to be changed to allow for more vending and produce, for instance, as a means to help states keep the facilities open. The overwhelming majority of responses were to the affirmative, particularly if such a move might preserve most of today's rest areas as a parking option — or eventuate in more available spaces.
The National Association of Truck Stop Operators, as previously reported by Overdrive's Matt Cole, "says expanding commercial services at rest areas, including even vending machine services, threatens to undercut truck stops and other off-highway businesses. The group wants FHWA to keep the existing rules in place that limit the services states are allowed to provide at rest areas."
Commenters believed in large part that the organization's concern was misplaced, particularly if services allowed at state-facilitated rest areas are limited to an extent they aren't at truck stops. One commenter, posting as Bossychell, perhaps put it most succinctly, "A truck driver is not going to pass up a decent sit-down meal at a truck stop for a vending-machine snack. The fact remains that there are not enough places for the trucks to park and anything that offers more parking spaces is something myself and all the drivers I know would be in favor of."
Rest areas, however, are certainly a favored spot under today's hours rules for shorter breaks like the mandated 30-minute break in the regs, and many readers expect them to assume greater importance as more of the industry transitions to electronic logging devices. Hear a variety of views from the Overdrive Radio podcast line on the subject at top at the head of the Mailbag playlist and in the podcast that follows.
Frequent commenter and owner-operator Pat "JoJo" Hockaday urged drivers to utilize their intimate knowledge of the parking situation along their routes to influence Metropolitan Planning Organizations (MPOs) to the positive, which could eventuate to the benefit of both commercial truck stops and public rest areas dedicated to trucks, where the need is greatest.
Prior Overdrive coverage outlined a tool Hockaday also shared, AskTheTrucker.com's nationwide MPO directory, where drivers can easily look up the appropriate contact for any particular area of the country.
Hockaday, meanwhile, offered a well-considered note that outlined his view of just where the industry is in relation to parking, which follows:
As an OTR owner-operator, I understand the cost of providing a service. Parking is a service. As NATSO's article "Find the True Cost of Parking at Your Truck Stop" indicates, a balance must be achieved between operating cost and operating income with a reasonable profit to be had at the end of the year.
The trucking industry seems to be at a standstill. We find ourselves competing for loads that pay little more today than they did 20 years ago. Employee drivers are earning 1980 wages and we owner-operators and independents must compete against a substandard labor rate. Our ability to earn directly affects our ability to spend money at the truck stops.
I am sure that drivers' inability to pay for a decent meal is the primary reason for the closure of many restaurants.
Our need for parking is nothing new, as studies from the 90s indicate a shortage.
What is new to our industry is the introduction of ELDs (Electronic Logging Devices) that will be required December 2017 [for most interstate carriers, with pre-2000 model year trucks exempted from the requirement]. This legislation along with the possible introduction of speed limiters will drastically affect the drivers' earning potential and create the need for more parking intermittently spaced along our routes.
If we consider the roadways and trucks and their drivers are a utility that services the public, parking is a part of the utility. Utilities such as pipelines and electric transmission lines have rights of way to service the utility. Truck stops are part of the utility, as they serve both the trucks and the drivers as well as the motoring public as an added income stream.
Unfortunately, the truck stops are not capable to fully meet the need of the trucking industry's requirement for parking within the metroplexes and along the way. The need to utilize the right of way in between truck stops could be a viable solution to enhance the truck stops' ability to profitably operate.
We drivers need a place to park to take our 10-hour and 30-minute breaks. We need to be able to stage ourselves for loading and offloading. Fulfilling these two requirements alone is challenging, a must-do. Providing parking for drivers to fulfill these job duties is a necessity that must be fulfilled for the utility to service the public.
The current model — and being against the expansion of available en-route parking, which NATSO is pursuing — is unacceptable.
Could this model be unwise to the truck stops' mission to operate profitably?
Consider that due to the services provided, all trucks naturally migrate to the truck stops despite en-route parking. En-route parking, places to take the 30-minute break or to spend the night, relieve congestion at the truck stops for paying customers.
We drivers simply need places to park to take our breaks, do our paperwork and wait to load or offload. While having rest-room facilities and garbage cans would be very nice, we don't absolutely require anything more.
If NATSO were to consider that secondary parking such as rest areas and staging areas actually provide a service to the truck stops by providing off-site parking to their customers, the rolling utility, we may be able to find solutions to create and enhance parking that permit us all to serve the public.
I would not like to believe that NATSO members are looking to greatly profit by controlling necessary assets, parking spots, which this country relies on.
This kind of action will give rise to alternative measures, such as fleets setting up staging areas that could include fuel for their trucks. … –Pat Hockaday, via OverdriveOnline.com
Access Hockaday's full commentary under the news about the FHWA's notice requesting public input at this link.