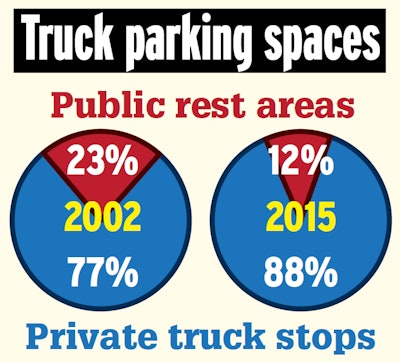 Connecticut is considering shutting two rest areas, and Arkansas is closing two for more than a year. Meanwhile, North Carolina just opened a new one.
The Owner-Operator Independent Drivers Association and the Motor Transport Association of Connecticut testified Feb. 9 against closing the eastbound rest area in Willington and the Southington rest area on I-84. The closings are contained in Gov. Daniel Malloy two-year $19.87 billion state budget cut bill that stipulates across-the-board cuts to many services.
Truckers must comply with hours-of-service regulations while wrestling with the truck parking shortage, MTAC President Joe Sculley told Connecticut lawmakers. "Since both of these rest areas are almost always full of trucks, we know that truckers are there to take a break because they are required to," Scully said.
Closing these locations could result in truckers altering routes to require fewer miles in the state. "This would result in a loss of fuel tax revenue that the state would be owed because of the International Fuel Tax Agreement, and sales tax revenue from food and beverage purchases at the rest areas," he said.
The bill, HB 5044, also calls for eliminating the "third shift" of rest area workers. "Whether it means physically closing down the rest areas at night, for example, or leaving them open but unstaffed, is a bad idea," Scully said.
OOIDA's Mike Matousek testified closing eliminating these rest stops put truckers and other motorists at risk.
Ironically, both Wilmington rest areas reopened in December after nearly a year of extensive renovations.
Meanwhile, Arkansas will close White River Rest Areas on I-40 Feb. 17 for more than a year.
Both the eastbound and westbound locations will be transformed in to Arkansas Tourist Information Center, which will include expanded rest rooms.
Finally, North Carolina opened a new rest area Jan. 29 near Balsam on the southbound lane of U.S. 23/74. Facility amenities include truck parking and picnic tables.
This month, the northbound rest area, located less than a mile south of the new Balsam location, will close for renovations until June. Work on both sites will total $6.15 million.