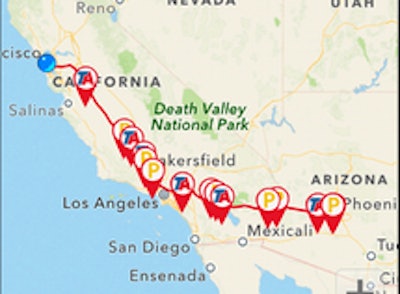 According to analysis by Trucker Path, 36 percent of truck parking lots along the National Highway System have open spaces during peak overnight hours. The company says its crowdsource-based research shows the country's truck parking crisis could stem from a lack of available information about available parking, rather than simply a need for more spaces.
Trucker Path found from its crowdsourcing service in its app that 12 percent of truck parking locations along the U.S. highway system, including truck stops, rest areas and other places with truck parking, are 80-90 percent empty between 11 p.m. and 4 a.m.
Another 24 percent of these locations have at least some parking available during the same time. The total, it says, adds up to 36 percent of truck parking locations having at least some available parking.
"We admit that truck parking availability is a problem, but a lot of that also has to do with drivers not knowing where parking is available," Tsybaev said. "In many cases, our app can show there are spots available if a trucker drives a few more miles down the road. It's all about having the right tools to find available parking."
The parking information found in the app comes from its users, who can select the truck stop or rest area where they are and update the parking availability by choosing "lots of parking," "some parking spots," or "lot is full" to help fellow truckers find parking.
"We receive all of our updates from truckers who use our app," said Ivan Tsybaev, founder of Trucker Path. "When drivers indicate that a lot is empty, it's usually somewhere between 80 and 90 percent empty."
The company says the combination of its crowdsourcing from more its active users, along with three years of historical data, helps it predict availability at locations by day of the week and time with 80 to 90 percent accuracy, according to Tsybaev.
"We have a section of our app that shows historical data as to what times a certain lot had available parking or not," he said. "It's not always going to be 100 percent accurate, but drivers can get a good idea of parking by looking back at a specific time."
The Trucker Path app also allows drivers to review truck stops, and the company says the top-rated locations based on 26,405 driver reviews in the first quarter of the year are:
Kent Kwik in Alamogordo, N.M. (U.S. 54 and 82)
Hixton Travel Plaza in Hixton, Wis. (I-94)
Fred's Fuel & Food in Gilman, Ill. (I-57 and U.S. 24)
Petro in Brazil, Ind. (I-70)
Pilot in Lincoln, Ala. (I-20)
Warren Travel Plaza in Warren, Ind. (I-69)
Pilot in Austintown, Ohio (I-80 and I-680)
Love's in Cumberland, Md. (I-68, U.S. 40 and U.S. 220)
Busy Bee in Live Oak, Fla. (I-10 and U.S. 129)