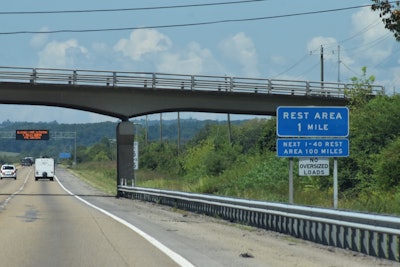 A new policy brief published last week by libertarian research group Reason Foundation suggests that lawmakers should reconsider the ban on commercializing interstate rest areas. With the ban in place, states are not allowed to add commercial services to rest areas, such as eating establishments or fuel services.
Moves toward repealing or modifying the ban have been made several times in recent years, at both the state and federal level, to no avail. The Federal Highway Administration fielded public comments in 2016 on whether it should allow new forms of commercial sales at rest areas beyond the currently allowed vending machines. The following year, a bill was introduced in Congress that would have given states the option to commercialize rest areas, but it went nowhere. Then, in 2018, the Trump administration's infrastructure proposal included rest area commercialization, but the proposal was never acted upon by Congress.
There is no current legislation to commercialize rest areas, but with a new administration, groups on both sides of the argument are making their cases.
The "Rethinking Interstate Rest Areas" report, authored by Reason's Robert W. Poole Jr., lists three main factors to bolster a case for why that the ban should be reconsidered:
"One is the large and growing shortage of safe overnight parking for long-distance trucking," the report states. "A second factor is the trend of state transportation departments to close some of their rest areas, due to budget cuts. And the third is the coming need to charge electric passenger vehicles and trucks and to refuel those powered by nontraditional fuels such as liquified natural gas (LNG) and hydrogen."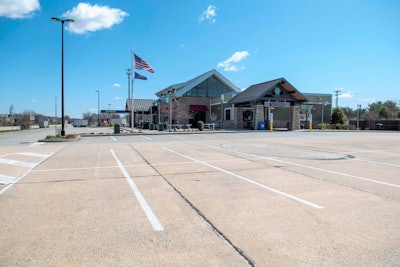 NATSO, the national group representing truck stops, has long been opposed to rest area commercialization due to the perceived impact it could have on off-highway businesses.
In a letter sent last week by NATSO to DOT Secretary Pete Buttigieg, the group outlined several impacts it believes commercial rest areas would have. According to the letter, commercial rest areas would hurt private businesses, undermine cities and towns, hurt consumers, threaten the livelihood of blind business owners (who are given priority for installing and operating vending machines at interstate rest areas), discourage investment in alternative fuels and constrict truck parking capacity.
On the topic of truck parking expansion, the Reason report notes that while rest area commercialization "would not provide immediate relief of the current parking shortage, it would motivate state DOTs to start planning for expansion and upgrading of their interstate rest areas."
[Related: What's at stake for truck parking advocates, states in federal funding]
NATSO argues in its letter to Buttigieg, however, that commercial rest areas would hurt truck parking capacity. "Private truck stops and travel plazas located at the interstate exits provide 90% of all truck parking in the United States, mostly free of charge, and need a healthy business climate to operate and expand," NATSO said. "When states are permitted to provide commercial services at their rest areas, private businesses either go out of business or, at the least, will not invest in expanded facilities. This will result in a net loss in truck parking capacity."
NATSO President and CEO Lisa Mullings added that "this deeply-flawed report by the Reason Foundation is part of their ongoing efforts to dismantle the federal government's role in transportation policy. The report is simply not credible because it omits essential facts and makes false assumptions."
Mullings noted that highways with commercial rest areas – which are only legal on toll roads that were not developed with federal funding and had service plazas in existence before 1960 – have 70% fewer parking spaces than non-commercialized highways.
She also argued that "rest area 'privatization' expands the role of government and government contractors. It displaces existing businesses who compete across the street from one another at highway exits. It results in higher costs to consumers, and lower quality."
The Reason report directly addresses some of the concerns NATSO has voiced over the issue. According to the brief, NATSO believes the commercialization of rest areas would create "state-sanctioned monopolies" along interstate rights-of-way. Poole's report says the monopoly claim "is a half-truth, at best."
"Toll road service plazas generally do contract with one gas station provider for the entire system, for a limited number of years," he says. "But at least some toll roads require fuel prices to be comparable to those away from the toll road."
Poole adds that food options, on the other hand, often vary from plaza to plaza.
Mullings referenced a report published in the Eastern Economic Journal in 2004, which found that "consumers face increased prices when there is a government-created monopoly for service providers at rest areas."
Another concern from NATSO is that commercial services at rest areas would pull customers, jobs and tax revenue away from local businesses, communities and cities, respectively.
Poole argues that the "competition for gas stations and food purveyors at off-ramps would be with name-brand, tax-paying gas stations and food purveyors at the commercial rest areas." The report lists 35 name-brand food providers that are located at service plazas along major toll roads, many of which are already located near interstate off-ramps elsewhere.
[Related: Could commercialization stem the tide of rest area closures?]
[Related: NATSO: Overdrive asked wrong question in rest area commercialization report]