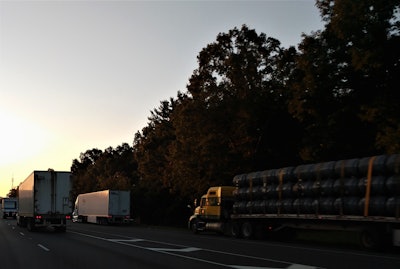 When truck parking capacity-funding legislation was introduced last year in Congress, notable for its absence in the text of the bill was any mention of the banner Jason's Law legislation long ago codified via the 2012 MAP-21 highway bill. That legislation, of course, in so many ways gave birth to and nurtured a new focus for freight-infrastructure planners on the issue of truck parking – with a national study into parking inventories and state-by-state assessments of regional and local needs.
Discussion panels across the nation, Q&A sessions with drivers at trade shows, renewed engagement with truckers by metro-area planning organizations via their own channels. All of these things became, well, urgently routine, of a fashion, around the issue of parking. You can peg credit for that squarely on the community of grassroots advocates who got the attention of lawmakers and more well-established trade associations with the story of the murder of Jason Rivenburg, parked out of necessity in a nontraditional spot outside an abandoned business in South Carolina.
[Related: Truck parking 'still a major problem in every state' and worsening, says inventory update]
Rivenburg's widow, Hope, was central to those efforts, and truckers like Desiree Wood and countless others tirelessly pressed the issue with anyone who would listen, as many indeed continue to do today.
Text of the reintroduced parking capacity-funding legislation, H.R. 2187, reported as reintroduced just last week, reminded me again of the exclusion of any mention of Jason's Law – though it wouldn't have been possible to pass muster without all the groundwork laid over the prior near-decade. With COVID as a distraction last year, H.R. 2187's prior iteration gained some new cosponsors from both parties over the course of 2020, but it never made it into law. There are nine cosponsors presently for the new bill in a just over a week since intro this time around.
Advocates have worried that the legislation might in effect practically replace the legacy of Jason's Law, yet that's not how the bill is written. Rather, it's directed at funding, specifically, not the establishment of national research and development priorities. It directs a set-aside specifically for parking capacity improvements (new spaces, effectively, with a prohibition on pay-to-park projects) to the tune of $755 million over five years, to be made available specifically for parking projects.
I reached out to the Florida Department of Transportation on the recommendation of a driver in the parking-advocacy community who was familiar with the ways the DOT there had benefited by the story told by the national studies and surveys initiated by the tragedy of Jason Rivenburg's murder, and the subsequent law bearing his name. FDOT Deputy Communications Director Alecia Colllins' responses to questions about the law show clearly the fundamental benefit states like Florida have seen as Jason's Law raised the profile of and study into the parking issue.
Furthermore, asked about the new legislation and its dedicated source of parking funding, Collins noted it would "serve to bolster what FDOT has already begun. Major strides have already been made in the state without a federal funding avenue" specifically for truck parking. "The establishment of Jason's Law has driven FDOT to build a framework which will allow any new funding to be applied quickly and effectively."
In short, dedicated federal parking funding probably couldn't come at a better time, should H.R. 2187 make it this Congress, or be added potentially in whatever lawmakers are able to do in terms of another infrastructure bill. There's a lot in the works in Florida, in any case, as you'll see. Answers shown below were given by Deputy Director Collins.
How has Jason's Law benefited the state's efforts around truck parking?
Collins: The 2012 Jason's Law benefited FDOT's freight efforts through increased consideration for truck parking in all project funding. Safety is the No. 1 priority of FDOT, and the Jason's Law survey proved every major corridor could utilize more truck parking spaces. The most visible effort in Florida has been the establishment of the Truck Parking Availability System (TPAS). This is a system of signage that notifies drivers of truck parking availability at upcoming rest areas.
[While] specific funding for Jason's Law is still in the works at the federal level, FDOT has taken the initiative by incorporating truck parking considerations through other federally funded programs such as the National Highway Freight Program (NHFP). To better incorporate truck parking funding in an objective and system-wide manner, the Freight and Multimodal Operations (FMO) Office analyzed all available truck parking in the state to pinpoint hot spots requiring investment.
Collins pointed to the FMO Office's dedicated page on the state's truck-parking efforts and its comprehensive study to "pave a pathway to implementation of tangible solutions," Collins said. "FDOT developed a solutions toolbox as part of the study. It aligns potential solutions by four categories: capacity, technology/communication, partnership, and policy.
This workshop was held December 10 last year (and two more are planned):
Advocates have pointed to how the story of Jason Rivenburg in Florida has been a meaningful component of bringing different organizations together, specifically in the hands of Autumn Young there – could you speak to how Florida has been able to move forward on funding projects as a result?
Collins: The story of Jason Rivenburg helps local planners effectively communicate the need for truck parking and combat misconceptions about how transportation infrastructure can help support safe freight movements.
Autumn Young is one of the seven District Freight Coordinators (DFCs) who champion freight throughout Florida and help to tell stories like these. Each DFC is aware of and working towards solutions to the truck parking shortage. Utilizing Jason's Law's surveys and FDOT analysis, the DFCs maintain an open dialogue with partners at a local level to understand the varying issues that the different regions of Florida are facing. The DFCs identify projects in their district, and help support them through planning, design, funding and implementation with collaboration from local partners.
It is critical to leverage partnerships to implement truck parking solutions at the local and statewide level. [The workshop discussion embedded above] revolved around how to collaboratively solve Florida's truck parking problem. The workshop yielded a productive discussion between FDOT, the Florida Trucking Association President, the Federal Highway Administration Director, and National Association of Truck Stop Operators (President and members), as well as interstate partners.
When it comes to public money flowing from the federal government, how much of that approximately has gone to truck parking in Florida since the advent of Jason's Law?
Collins: Though direct funding for truck parking is still being established at the federal level, there are several other funding sources available to effect changes in truck parking. The National Highway Freight Program of the FAST Act has been utilized as the primary funding source for truck parking projects by FDOT.
FDOT has allocated, between fiscal years 2021 through 2026, about $57.4 million towards truck parking development and site analysis. Other programs such as the Intermodal Logistics Center Program and federal discretionary grants have been leveraged to varying degrees of success. In 2016, FDOT successfully secured about $10.8 million in FASTLANE funding to commence the implementation of the Truck Parking Availability System (TPAS) at approximately 74 public facilities across the entire Interstate System in Florida. The total project cost was about $24M.
Currently, FDOT is establishing a Rest Area Master Plan that will have a truck parking component to assist in directing further funding sources towards implementation. Soon FDOT plans on establishing a Truck Parking Improvement Plan (TPIP), which will be similar in nature to the Rest Area Program. The idea is to include a formal program with defined funding apportionment that will provide clear guidance to the districts on how to approach truck parking projects from procedural, technical, and funding perspective, including the process for local governments and private stakeholders to pursue partnership opportunities. Overall, the TPIP will provide the FDOT districts with the certainty needed to pursue longer-term initiatives and build on early wins and incremental improvements.
What's on the horizon for the Florida DOT when it comes to improved truck parking capacity?
Collins: In the Statewide Truck Parking Study, you will find many variables for selecting a specific truck parking solution. This demonstrates that there is no "one size fits all" approach to addressing truck parking issues and that each location needs to be individually assessed for truck parking opportunities.
In relation to improving capacity, the solutions fall into the short and medium-term timelines and generally have a strong role for FDOT. Capacity solutions are most fitting for locations where both public and private truck parking locations are full or over-utilized and trucks are parking in unauthorized areas.
Collins offered this chart showing several projects in the works: