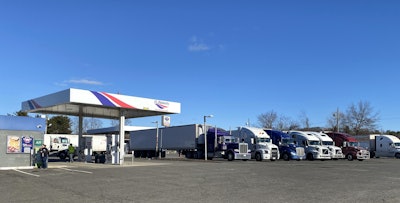 Truck parking in America costs hardworking long-haul drivers an average 12% of their annual income (around $5,500 annually) by forcing them to look for parking for 56 minutes each day, according to the most recent estimates from the American Transportation Research Institute.
It's a stain on the country's infrastructure, it's housing insecurity for people often working well over 40 hours a week, it's truck operators' top concern, and it's plainly a pain-in-the-neck, daily struggle for drivers who are at the present moment often struggling to make ends meet.
But trucking has always been tough, and truck drivers have always been just a little tougher.
The Owner-Operator Independent Drivers Association says there is only one parking spot available for every 11 trucks on the road, and a nationwide shortfall of more than 40,000 parking spaces. Yet somehow, trucks find parking.
[Related: New site to reserve truck parking something of an 'AirBnB' network for facilities]
Often enough it means a beg, borrow, steal or "all of the above" approach to finding a spot. Some drivers camp out at Walmart, risking a ticket or worse, a boot, depending on the location. Some know their pickup and drop-off spots and scout unmonitored stretches of road or back lots. Some use ramps with particularly wide (or not) shoulders.
Many drivers, more than a million on Trucker Path alone, use a phone app.
Chris Oliver, chief marketing officer at Trucker Path, did some basic math around the truck parking crisis to challenge the popular "driver shortage" narrative. "The ATA estimates the U.S. trucking sector was 78,000 drivers short last year, which is down from the record-setting 80,000 shortage of drivers in 2021," he said at a recent webinar organized by the North Central Texas Council of Governments. "If there are 3.5 million drivers suffering a 12% productivity loss [due to truck parking shortfalls], that equals 420,000 units of productivity that are lost when all those drivers are out looking for parking."
Improving the time drivers spend looking for parking by just 25% would bring that number down to just 315,000 productive units lost, he said, essentially negating the impact of any perceived driver shortage while helping drivers "get further down the road, seeing their paychecks get bigger, getting closer to their destination and creating less emissions."
Oliver's app, and others like it, seek to crowdsource a solution to the parking crisis by allowing drivers to rate, review and even add new parking spots on a constantly updated map. The app's long been known as a source for timely updates about parking space availability from users themselves. And Trucker Path employs an entire moderation team and gets lots of its most useful data straight from sources like truck stops themselves and state agencies.
Oliver explained how technology, like sensors and cameras monitoring truck parking lots and reporting availability, as well as crowd sourcing, like reports and reviews from drivers and even using AI to predict when spots might be available, could help ease the problem. "But I'm not going to pretend I have all the answers," he admitted.
[Related: Parking perils: The increased cost -- and risk -- of booting and towing]
Other apps, like ParkMyRig, attempt a similar crowdsourced mapping project, but with a smaller batch of locations. While Trucker Path boasts more than 20,000 points of interest, ParkMyRig features around 11,000, and it's all hand-curated by founder LeRoy Clemmer.
Clemmer, a company driver for 30 years, wrote his ParkMyRig book back in 2010, and it's now on its 11th edition and still for sale at the Iowa 80 Truck Stop. He said in recent years subscriptions to the app have cannibalized book sales, but it's probably still the best single book on where to find truck parking. Clemmer, who had some electronics and computer training, taught himself how to develop Apple and Android apps specifically to launch his own.
"They're just junk," he said of his competitors when he set out to build the app. "I don't know how else to say it. I don't like the way they're laid out, there's bad information, ads, pop-ups, and I have no ads or pop-ups and won't ask you to rate the app."
The ParkMyRig app costs $2.50 monthly or $25 a year. Trucker Path also offers paid subscriptions that do filter down ad content.
Furthermore, "I'm actually out here driving," Clemmer said. He adds truck stops from his own personal knowledge and experience, including dozens of unmarked back lots and wide shoulders. He moderates the app entirely by himself, so it doesn't always update instantaneously. He said he stays on top of it, though, and often speaks directly to property owners for the best information.
Both apps list amenities at truck stops, with ParkMyRig keeping a closer eye on free perks, but ultimately they both rely on a network of truck drivers working together to find safe parking.
Both apps struggle with drivers not wanting to reveal their favorite spots for fear that they'll become overcrowded, but that's true of any social network. Some people just want to keep the best for themselves.
According to Oliver, though, the crowdsourcing project works because drivers look out for each other.
"When you've got a million people contributing their opinions, I'm sure some will want to sandbag and not share with the world," he said, "but for the most part I believe they do. I won't say it's a club. It's a relatively tight-knit group. They tend to trust each other a little bit, and help each other out."
But elsewhere, as the top levels of government turn their eye toward "fixing" trucking and the supply chain, millions of dollars in truck parking funding have been approved with hundreds of millions more likely on the way.
Read next: How to fight for your right to park the truck, be a better advocate
[Related: Truck parking info delivery study point to key limitations -- accuracy, accessibility in-cab]