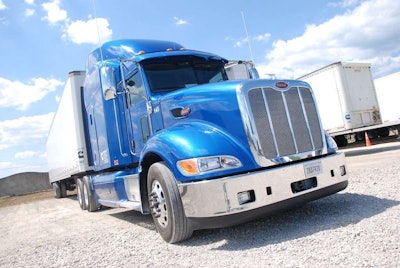 If you're among the 90 percent of buyers who can't afford to pay cash outright for a truck, one of the most basic decisions you need to make is whether to buy or lease. Each option has advantages and drawbacks.
PURCHASING. When you take out a loan and arrange to finance a truck, you are buying the vehicle and will own it at the end of the contract. A loan requires monthly payments, usually over three to five years. Your monthly payments include principal and interest. With many finance contracts, you pay more interest per payment in the early years, and pay down more of the principal per payment in the later years.
LEASING. Leasing is similar to renting. You pay for the use of a truck that is not actually yours. When the lease is up – usually in three to five years – you do not own the truck as you would if it were financed; you return it to the lease company. However, you can elect to purchase the truck at a predetermined price. This residual value of the truck is agreed upon in the original lease document. Leasing models can vary greatly, and differ from buying through a carrier's lease-purchase plan.
TRUCK LEASING TIPS
Spec the most common type of truck for your application to maximize resale value.
Compare the stated residual value with the resale value of a similar truck. Ask to see the truck's maintenance records before signing the lease.
Don't rush. Check out two or more lease deals. If possible, have an accountant or attorney look at the deals. Try to negotiate.
Get a written cost comparison between an outright purchase and a lease from each dealer. Have your accountant assess each.
Make your lease term as short as possible, and know what happens at the end of the lease.
Make sure there are no mileage limitations. If there are, make sure they are well within the mileage plans of your operation.
Be aware of alteration restrictions.
Make sure that all warranties pass through to you.
Find out when payments are due and what to do in case of an accident or damage to the truck.
Understand the conditions under which you can get out of the lease.
Before signing a lease, consider maintenance funds.
Understand how the IRS views the agreement. If the lease does not include a buy option, you cannot depreciate the vehicle, but you should be able to write off payments as an expense.
DEFINE YOUR BUSINESS
Most potential owner-operators wouldn't dream of going to a carrier without already having a truck. Any reputable carrier representative will be eager to talk with you and help you understand his operation before you own the truck. As you talk with potential carriers, further outline your business model. This is a great opportunity to spec the right truck for the work you are planning.
Before talking with a sales representative about buying or leasing, make sure you can answer a few key questions:
Does the carrier have tractor restrictions that will affect your purchase? Some companies won't use trucks that are more than four years old, or may require additional items such as a headache rack.
What fees apply to you as an owner-operator? Are you required to buy base plates at startup? Does your carrier require additional purchases, such as an onboard communications system? When are these required?
How much will you need as a down payment for insurance?
What are you being paid per mile, and what are the average miles per month you can expect to run? Dispatchers and other owner-operators may be more candid than other company representatives. See Chapter 18 for more on choosing a carrier.
WARRANTIES
One of the biggest misconceptions about warranties is that they are bumper-to-bumper. Most warranties, especially on used trucks, are more limited.
All the same, robust powertrain warranties, even those applied late in the life of a used engine, have saved many an operator's bacon. They're effective insurance against premature catastrophic failure. Owner-operators still making payments on their truck or rebuild loans will benefit, as will operators whose operating income is such that they can't keep up with recommended maintenance savings. Warranty costs increase with equipment age but can decrease with major preventive maintenance investment, such as an engine or transmission rebuild.
With both new and used equipment warranties, take as much time as you need to understand the warranty being offered. Gain a solid understanding of claim procedures, such as who accepts and rejects claims.
CARRIERS WITH LEASE-PURCHASE PLANS
Lease-purchase plans are somewhat popular paths to truck ownership, particularly among operators with otherwise shaky credit, but some carrier contracts make it difficult to generate enough revenue to meet payments. The contracts may require high weekly payments, maintenance accounts or end-of-lease balloon payments.
They generate the most controversy for practices that favor the company at the expense of the owner-operator. Common complaints include mileage manipulation in the latter stage of the contract and unadvertised fees and charges.
But another approach practiced by some carriers is centered around developing an owner-operator base and helping contractors develop their businesses. Many successful owner-operators bought their first truck through a lease program.
If you have questions after reading the contract, consider hiring a lawyer or financial adviser to review it. Make sure items such as down payment, weekly or monthly payments, maintenance escrow account, length of contract and what you'll owe at the end of the agreement are spelled out.
Work up a budget to give you an idea of what truck payments you can afford and how much revenue you'll need to cover payments and other financial obligations. Given the age of the truck, estimate what it will be worth when you complete the contract.
Many carriers offer no-money-down contracts, but this often means higher periodic payments. Be alert to the amount of any balloon payment at the contract's end and how you're going to save for it. Other important considerations:
Make certain the lease doesn't require you to pay extra for driving beyond a certain number of miles. You should be free to run enough to make it worth your time.
A carrier should be willing to show you the truck's title if the agreement includes a buyout. Check the serial number against the truck.
ESTIMATE TRUE COSTS. Calculating the total cost of a truck under a lease-purchase plan can be difficult. It's easy to hide the amount of interest in vehicle leases. Beyond knowing the monthly lease payment, make sure you know the total purchase price. The cost of interest isn't the only factor. Given the price and condition of a truck at the beginning of the lease, you should make an informed estimate of what it will be worth by the time you take ownership. Otherwise, you run the risk of having little equity to put toward your first trade. Some buyers have come to their final payment, known as a balloon payment when it is structured to be a large payment, only to find the truck is worth less than the balloon.
COMPARE LEASE-PURCHASE PROGRAMS. If you haven't been with a company long, establish trust with management and learn the details of the operation. Once you understand your company's lease-purchase program, call other carriers and compare their programs. Talk to drivers in a contractual deal with a truck.
RESEARCH YOUR COMPANY'S FINANCIAL STABILITY. Most lease-purchase programs tie you to the company until the end of the lease, so the company's health could impact your ability to complete the lease. If the company is publicly traded, its financial picture is available online and elsewhere. If it's private, don't be afraid to ask about its long-term financial prospects and debt level. Learn about its reputation within the industry. Research the economic outlook for its primary shippers. A downturn in freight could reduce your miles and destroy the chance of completing your lease.
CHECK OUT THE TRUCK YOU INTEND TO LEASE. Ask to see maintenance records, and inquire about any major repairs. Make sure all recalls have been addressed and problems fixed. If warranties are offered, study the terms. Determine if the mileage makes sense for the year of the truck. Ask how many times the truck has been leased. This not only will give you insight into the equipment itself, but also the lease-purchase program. Numerous leases on a particular truck should be a red flag.
BE PREPARED FOR THE PAYOFF. In the case of an end-of-lease balloon payment, devise a financial plan that will ensure you can make that final payment. Calculate what you will owe compared to the truck's estimated actual value at that point. You don't want to be underwater on the truck's value at the end of the lease. Nor do you want to make payments for years and have little or no equity because you can't make that final payment.
UNDERSTAND ESCROW ACCOUNTS. A maintenance escrow can be helpful if you are inexperienced with a truck's upkeep, but some lease-purchase escrows give limited or no control over your use of the funds. There might be a minimum balance requirement that forces you to pay out of pocket for a repair. Other escrow accounts can be required, such as a security escrow to cover expenses the lessee fails to pay. Make sure you can get the escrow balances back when you complete the lease or if you change carriers.
RESIST A HARD SELL. If you get excessive pressure to sign a contract, walk away. A company with your best interests at heart will understand your desire to do further research or get counsel from family, friends or professionals.
ASK QUESTIONS. If you're thinking about a lease-purchase plan, ask the carrier:
What happens if I want to change carriers?
How large is the down payment?
Is there a penalty for early payoff?
Will an accurate account of payment show up in every settlement?
Will I be able to show a profit after payments are deducted?
How long before I own the truck?
What percentage of lease-purchase participants in your plan eventually take ownership of their tractors?
WHAT ABOUT BUYING USED?
The market for used trucks, favored by owner-operators in three out of five purchases, is better than it has been in years. Thanks to a higher volume of newer used trucks becoming available, prices have dropped. Also, interest rates are in owner-operators' favor, particularly those with good credit.
While the supply of used cars is almost endless and the cars on a lot near you will be the same cars at any dealer across the country, it's not so simple for commercial trucks.
EVALUATE COMPONENTS AND FUEL EFFICIENCY. The model alone tells you very little. Because trucks can be spec'd so many ways, you need to know much more about components in a particular vehicle – the engine, transmission, rear end ratio, horsepower and torque settings, component weights and weight limits, etc. The specs can impact your profitability, so make sure you get the right truck for the job.
With your application in mind – type of freight, regions of haul, etc. – spec the truck from the bumper to the mud flaps. The first two priorities are always fuel mileage and low maintenance cost. The things to consider include body style, engine, transmission, rear end ratio, tire sizes and styles, weight, accessories, auxiliary power unit or other idle reduction technology, mileage, sleeper size, etc. Specs properly matched to your application also contribute to better fuel economy. Most used trucks were not spec'd for optimal fuel mileage, so dig deep to find what you need.
START YOUR SEARCH. Many online resources are available to search for used trucks. A simple Google search will get you started. List all truck models that might meet your criteria; in the beginning, you might want to try to match your criteria exactly, but if you are having trouble, lighten up a bit on the requirements. Give yourself plenty of time: 30 to 60 days is not out of the question. Be persistent.
NARROW YOUR LIST. Once you have found three to five trucks that meet your key requirements, rank them by your preferences. Run a VIN check online to get as much history as possible through services like RigDig.com; you will find ownership history, insurance claims, accidents, mileage history and more. When you find a clear reason not to buy a certain truck, put it aside and move to the next one.
RESEARCH IN DEPTH. Call the dealer and get as much information as possible: maintenance history, full ECM reports, pictures, even video. If a dealer says he doesn't have this information or otherwise puts you off, move on. Other dealers will work with you, and their cooperation is critical to making the right decision. Take time to research what kind of operation in which the truck has been, whether it's been parked for extended periods of time and what preventive maintenance has been done. If the truck came from a large fleet, chances are its maintenance records are available.
SCHEDULE INSPECTIONS. Three separate inspections are ideal, performed by shops other than the selling dealer:
Engine inspection by an original equipment manufacturer shop (i.e., a Detroit Diesel garage for a Detroit engine), including tests for dyno, engine blow-by, oil analysis and charge air cooler, and an evaluation as to whether the engine's condition is reasonable for its mileage.
Front end inspection. This provides a good indication of how well the truck has been maintained.
Finally, a bumper-to-mudflap inspection by a well-qualified mechanic. Ask the mechanic for his opinion on the truck overall, including the condition of all major systems.
If you are diligent each step of the way, you should be confident in devoting increasing amounts of time and money toward making the right choice.
WHAT ABOUT GLIDERS?
Today's glider kits are taking off, offering the same amenities and similar resale value and warranties as dealer trucks. One of the biggest attractions lies under the hood. Answers to the following five questions will prime you for shopping:
WHAT'S THE MOST POPULAR GLIDER EQUIPMENT? Fitzgerald Glider Kits, based in Byrdstown, Tenn., stocks its own engines, obtained from truck teardowns or salvage companies. It remachines and rebuilds them with remanufactured components. The business uses only 2003 model-year or older 12.7-liter Detroit Series 60 engines that are torn down and rebuilt in-house. The engines are coupled with Eaton-Fuller transmissions purchased from Eaton. Ervin's, another glider kit manufacturer, buys Freightliner "powered gliders" with remanufactured Detroit engines, 2003 and older, already installed.
WHY BUY A GLIDER? Three key benefits of buying a glider are lower upfront cost, the potential for both lower maintenance costs and improved aftermarket value. Compared to similarly spec'd factory models, gliders typically run 10 to 15 percent cheaper.
HOW STRONG IS RESALE VALUE? Insurance Auto Auction, a used truck reseller, often sees glider kits with pre-2003 model engines getting as much as $10,000 more in resale than comparable factory trucks.
HOW DO WARRANTIES WORK? The glider shell – cab, chassis and wiring – comes with a 1-year, 100,000 mile factory warranty from Fitzgerald. Peterbilt and Kenworth also have a standard 5-year, 750,000-mile warranty on the rears, and Freightliner has a standard 3-year, 300,000-mile warranty on the rears. Eaton-Fuller remanufactured transmissions come with a 3-year unlimited warranty, and the remanufactured Detroit engines come with a 3-year, 300,000-mile warranty.
WHAT ARE POTENTIAL HANGUPS?
As for resale value, aftermarket sentiment varies. Many dealers won't buy or trade gliders because dealers can't be sure of the origins of the truck's componentry, nor can they apply aftermarket warranties to them as easily. Fitzgerald and Ervin's can mitigate these concerns, though.
California requires a particulate filter in engines older than 2006. Complying with this to enable running in California would mitigate some of the benefits sought in the first place.
Some gliders may not have access to the service network that new trucks would, depending on the components used in the build.